A metal detectorist found a pile of exceptionally preserved Roman and Iron Age objects buried 2,000 years ago in a field in Monmouthshire, a county in southeast Wales.
Metal detectorist Jon Matthews discovered the objects, which date back thousands of years, in a field in Llantrisant Fawr in 2019. The Roman finds, now officially declared a treasure, could suggest a previously undiscovered settlement in the area, according to experts.
These finds include a Roman pot and a Celtic bucket mount, which initially emerged as a bloc collection of buried treasures.
According to the press release, archaeologists determined that the 2,000-year-old artifacts were Iron Age and early Roman pottery vessels. From the field, eight artifacts, including two whole pieces, were found.
The artifacts were likely buried together "around the time of the Roman conquest, in the second half of the first century A.D.," the release said.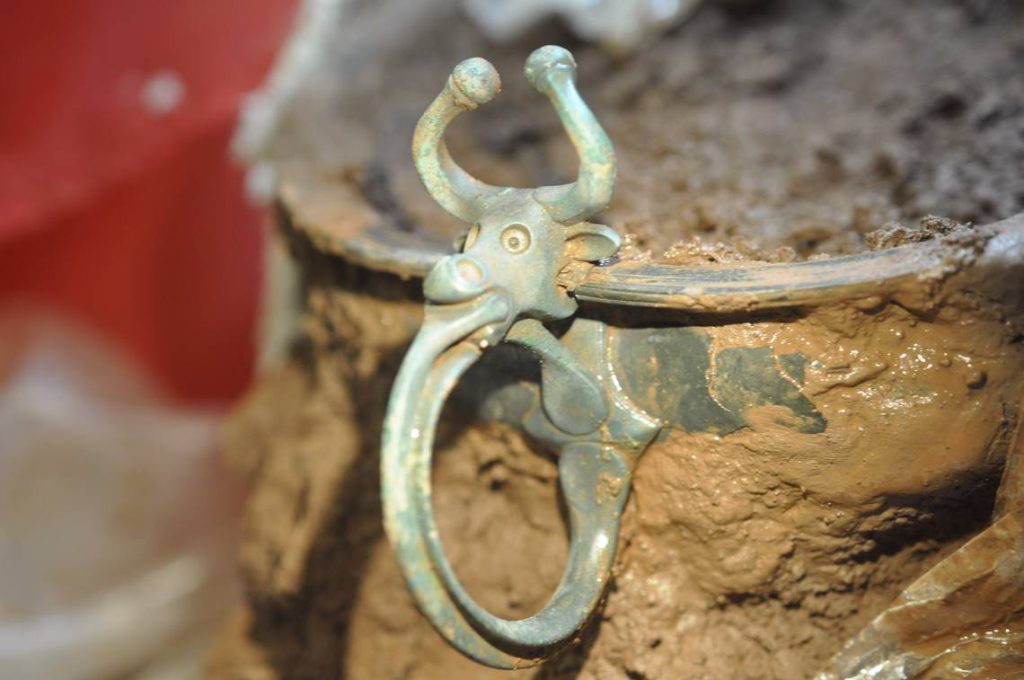 Among the finds was a fascinating bowl decorated with an ox face, as seen in one of the photos. A wide-eyed ox with bowed horns is depicted on the blue-green metal design. He sticks out his lower lip or jaw into the handle-like loop.
"I've never seen anything like it. I didn't think our ancestors could make such a beautiful, beautiful thing. I was quite shocked. I feel honored to have found something so unique that is linked to Wales and our ancestors," Matthews told Wales Online.
The excavation team nicknamed the ox "Bovril," said Adelle Bricking, an archaeologist who worked on the excavation. Bricking said. "Imagine our surprise when we flicked off the mud and exposed Bovril's adorable little face!!!" she wrote.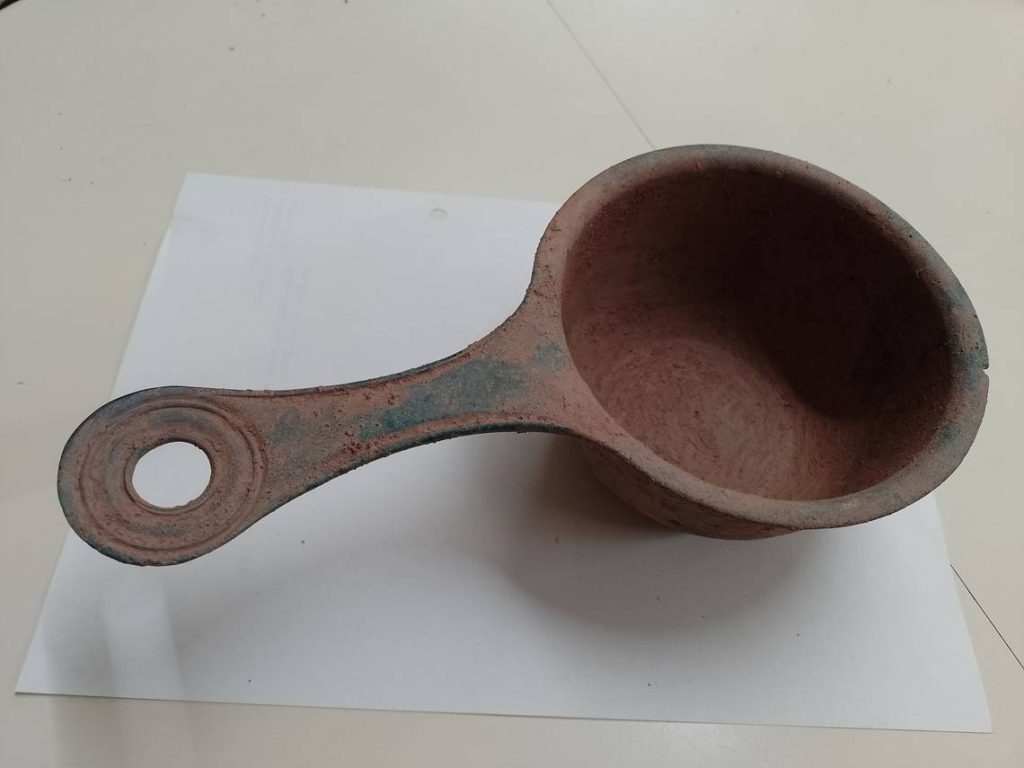 The subsequent investigations conducted by experts from the Portable Antiquities Scheme in  Wales (PAS Cymru) and Amgueddfa Cymru uncovered a total of two complete and six fragmentary vessels. Among the findings were remnants of two wooden tankards, an  Iron Age bucket adorned with copper alloy fittings, an Iron Age copper alloy bowl, cauldron, and strainer, as well as two Roman copper alloy saucepans.
"I feel honored to have found something so unique that is linked to Wales and our ancestors," Matthews said.
Alastair Willis, a senior curator at Amgueddfa Cymru, said, "The discovery of two coin hoards in the same field and in the general vicinity of the Roman town at Caerwent, is exciting and significant. The results of the geophysical survey undertaken suggest the presence of a previously unknown settlement or religious site where the coin hoards were buried. This sheds light on life in the rural hinterland around the Roman town of Venta Silurum. The discoveries are also important for understanding events happening in south-east Wales around the time when the Romans left, at the beginning of the fifth century AD."