Two monumental statue heads believed to be dated to the early 3rd century have been unearthed during excavations at a cricket club in Carlisle, northern England.
The new dig in Carlisle just got underway Monday 22 May and it was day two of the dig when the discovery was made. One of the discoveries at the site in the northern cathedral city of Carlisle may represent Fortuna, the goddess of luck.
Other one possibility is that the heads, one of which is female and the other male, may be representations of Septimius Severus and his wife Julia Domna. The female figure has thick, wavy plaits, a hairstyle Julia Domna was famous for throughout the empire.
Three times larger than life size, the sandstone heads stand two feet tall. Archaeologists estimate that the original statues must have stood between 12 and 15 feet tall based on the size of the heads. These are the first sculptures discovered at the location.
The Roman-era carved heads are another addition to the site's growing collection of artifacts. Tiles and gemstones were also previously uncovered on previous excavations, suggesting that Septimus Severus, a Roman Emperor from the third century, had ties to the location.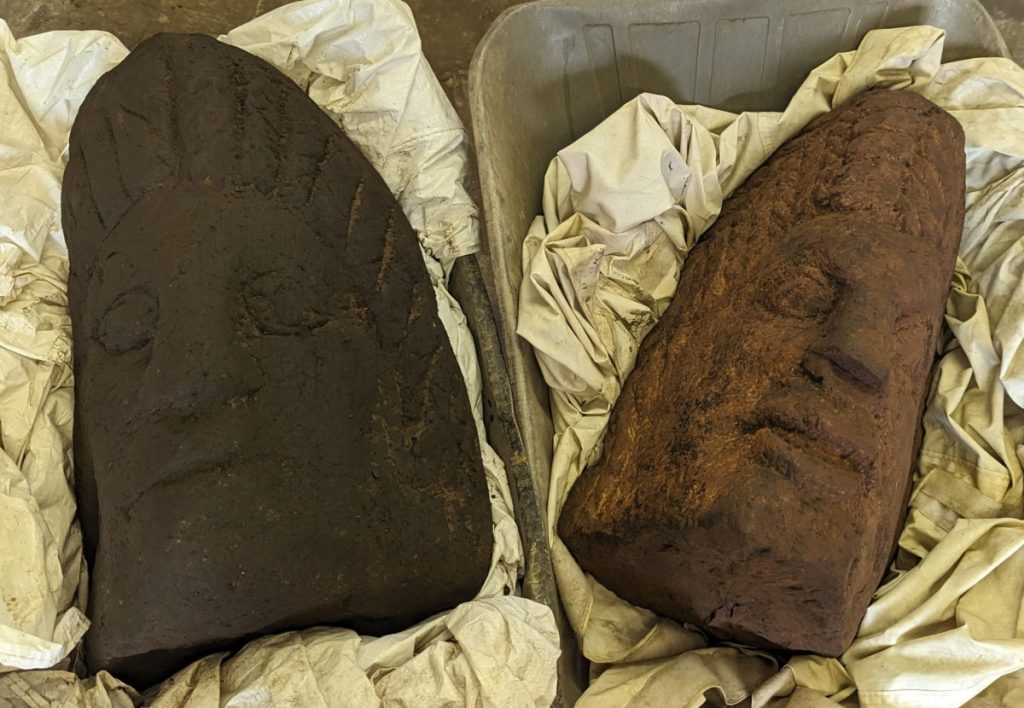 The heads were found at the edge of a cobbled Roman road. They appear to have been purposely left there, placed side-by-side on the cobbled surface of the road.
Archaeologists believe they may have been rejected spolia (ancient building materials stripped and repurposed for later construction), left by the roadside by people looting one of the huge structures in the bathhouse complex for its building materials.
The heads were discovered yesterday, just two days after the new dig season began by volunteers Carolyn Veit and Ruth Pearce.
Cumberland Council Councillor Anne Quilter, said: "This is exciting news and is a real coup so early into the dig.
"It is a significant find and it is great to hear that they were unearthed by volunteers. Carlisle has a rich Roman history, and this further strengthens the city's connection to that era. I can't wait to see what else is found.
The dig will take place until Saturday 24 June with local firm R H Irving Construction who provided the machinery on site for free resulting in the excavation being expanded allowing even more volunteers to take part.
Cover Photo: Cumberland Council