The opportunity to be among the first to examine 2,000-year-old cremated remains from Roman Britain and learn about the origins of the inhabitants of Colchester, the country's first capital, is available through an online course.
Colchester Museums and the Department of Archaeology at the University of Reading are preparing to launch Dead Interesting: Uncovering Roman Britain in Old Museum Collections on the premier social learning platform FutureLearn.
This free online course is partially funded by the Arts Council of England.
Aimed at audiences between the ages of 18 and 30 who are interested in studying archeology archaeology at the Undergraduate or Postgraduate level, it will also appeal to anyone with a keen interest in history and archaeology, particularly Roman Britain. Participants can learn at their own time, at their own pace, on any device with an internet connection. The course is to last two weeks and the recommended study time is two hours a week.
The subject of the course will be based on recent research conducted by Colchester Museums and the University of Reading in 2021, which explores the complexities of life and death in Roman Colchester.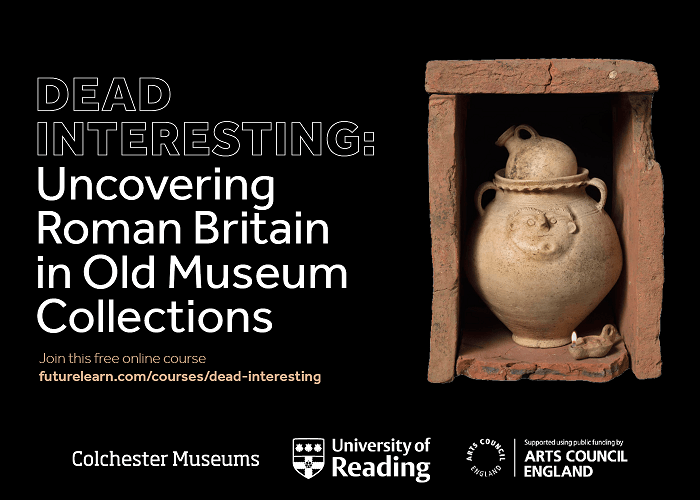 The study team used novel archaeological techniques such as isotope analysis and current Osteoarchaeology to examine cremation graves (consisting of both cremated bones and accompanying artifacts) from Colchester Museum's large collections. This has allowed curators and academics from both institutions to learn more about the lifestyles of the early Romano-Britons.
Participants will work as part of a research team to unearth astonishing information about a single person whose life ended in Roman Colchester. Throughout the course, the learner will be able to utilize their new osteoarchaeological knowledge to piece together a profile of who this individual was – their age, gender, origin, and status.
The course will also touch on Roman attitudes to death and burial processes.
Glynn Davis, Senior Collections and Learning Curator at Colchester Museums said: "This is an incredible opportunity for individuals to get beneath the skin of Roman Britain. Who were the individuals that ultimately ended their lives in Roman Colchester? Using cutting-edge osteoarchaeological techniques, we have been able to work alongside our peers at the University of Reading to truly bring Roman Colchester to life."
Learners will have the option to pay for enhanced access for as long as it is available on the platform after completing the course. When learners are eligible, they can also obtain a Certificate of Achievement to show that they completed the course.
Current University of Reading students will be able to obtain the benefits of the FutureLearn upgrade for free as part of FutureLearn Campus. Students must use their University of Reading email address.

Dead Interesting: Uncovering Roman Britain in Old Museum Collections launches today at https://www.futurelearn.com/courses/dead-interesting