An iron face mask used by a skilled member of the Roman cavalry 1,800 years ago has been discovered in the ancient city of Hadrianopolis in northern central Turkey.
The Ancient City of Hadrianaupolis, which is estimated to have been established in the 1st century BC and used for settlement until the 8th century AD, is located in the Eskipazar district of Karabük.
Excavations continue in the 5,500-year-old Hadrianaupolis Ancient City, known as the "Zeugma of the Black Sea". New artifacts were unearthed in the ongoing excavations under the chairmanship of Karabuk University Archeology Department lecturer associate professor Ersin Çelikbaş.
Head of Excavation Assoc. Dr. Ersin Çelikbaş said that the 1800-year-old iron mask unearthed during the excavations revealed the presence of a military base of the Roman Empire in the inner parts of the Western Black Sea Region.
Speaking to the reporters on the subject, Head of Excavation Assoc. Dr. Ersin Çelikbaş stated that they have been continuing the excavations in 2021 for 6 months, 'We guess from the fortification wall in the building that this is a military structure. An iron mask was uncovered during excavations here,' he said.
'The history of the inner regions of the Western Black Sea Region has not been fully elucidated yet. We continue to illuminate the history of the region with our studies,' Dr. Ersin Çelikbaş continued.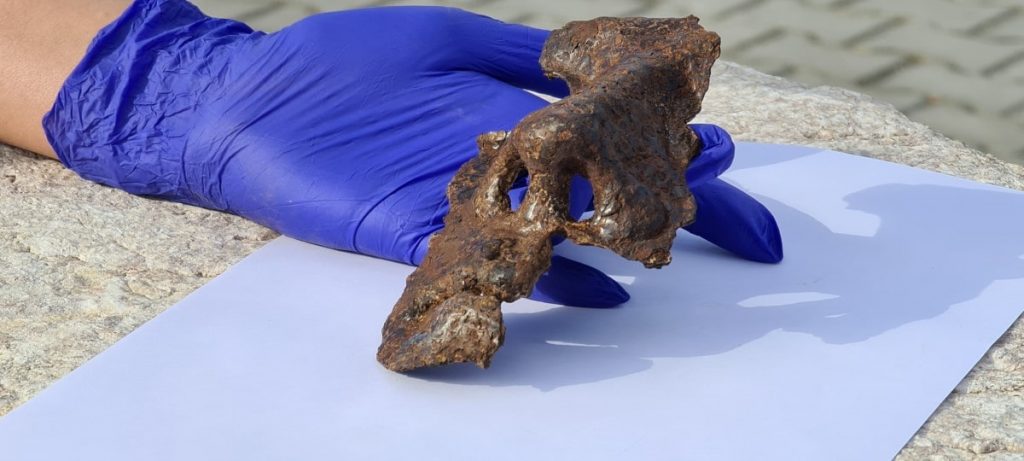 'During our excavations, we reached important data showing the existence of the Roman Empire in the region.'
Noting that the artifacts they found during the excavations also revealed new discoveries, Çelikbaş said, "The military presence of the novel was unknown in this inner geography of the Western Black Sea Region. With these studies we have done, it is most likely that the Roman Empire established a military base here. The biggest reason for establishing a military base here is to obtain a frontal defense area that will prevent all kinds of dangers from the east and the Black Sea. Therefore, we can say that Hadrianaupolis is one of the important defense cities of Rome.
Since 2003, archaeologists have excavated the site, uncovering 14 buildings including two baths, two churches, a theatre, rock tombs, a monumental niche, a mansion, and the square, walled edifice where the cavalry mask was discovered.
Excavations continue in the ancient city.