Hadrianaupolis Antique City is located 3 km west of Eskiyapar district of Karabük. This ancient city has been known as the "Zeugma of the Black Sea" due to its unique beauty mosaics.
Under the direction of Kastamonu Museum, Karabük University Archeology Department Assoc. Dr. The work under the coordination of Ersin Çelikbaş was initiated as a result of a survey conducted in 2003. Remains of Late Chalcolithic, Roman, and Early Byzantine were found in the region.
Restoration work was started on the mosaics, which depicted many animals such as horses, elephants, panthers, deer, and the "griffin" seen in art history, unearthed this year in the ancient city.
Dr. Ersin Çelikbaş, Speaking to the Anatolian agency reporter, said that the work done in Hadrianaupolis Ancient City over time has become permanent.
Explaining that they are currently focusing on restoration in Hadrianaupolis, Çelikbaş said, "We concentrated the restoration on the building which we call the 'B' church and has a protection roof. In the work done here, we carry out works such as re-joining the mosaics, renewal and correcting the collapsed parts. " he said.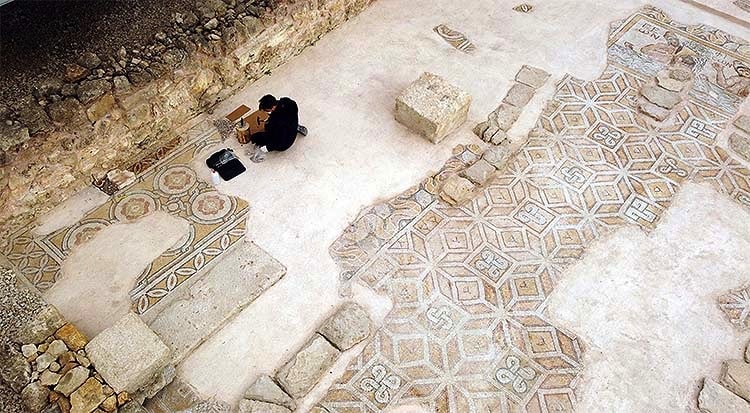 Stating that three archaeologists and three restorers worked in the work, Çelikbaş said, "Archaeologists and restorers continue to work in the church every day. From now on, work will continue in Hadrianaupolis in both summer and winter season.
Hadrianaupolis is a huge area of 12 kilometers. We will put this section at the service of humanity. " used the expressions.
What is griffon?
Griffons are the name given to mixed beings. These mixed beings are generally beings with lion bodies, eagle wings, and eagle heads.
Tessera: It means cube and dice. Small mosaic stone is the name given to glass or marble pieces.