The archaeological survey of the Suzdal Opole, initiated by the Institute of Archeology of the Russian Academy of Sciences more than 20 years ago, annually brings bright findings. During this year's excavations, a seal depicting Saint George from the 12th-13th centuries AD was discovered.
The team has found a rare lead seal depicting St George carrying a spear in his right hand and his left hand leaning towards a shield. To the left of the figure is a columnar inscription "GEOR" with a mirrored outline of letters, to the right is the letter "A". There is a dotted nimbus around the head of the saint and a dotted rim along the edge of the seal. The diameter of the lead circle is 2.3–2.5 cm.
This is the sixth seal found by the expedition team of the Institute of Archeology of the Russian Academy of Sciences in all years of fieldwork in the settlements of Suzdal Opole.
There are only 17 known examples of the seal depicting St. George. 10 of them are known from the territory of the modern Vladimir region (7 samples), Moscow (2 samples) and Yaroslavl region (1 copy), and the other 7 are known samples from Southern Russia.
Unfortunately, most of these seals are finds from unauthorized collections, with only two having a definitive archaeological reference. These are seals from the Ust-Sheksna settlement and the Mogutovsky archaeological complex, at the confluence of Sheksna with the Volga.
St George, also known as George of Lydda, was a Roman army soldier and member of the Praetorian Guard for Roman Emperor Diocletian. He was venerated as a Christian saint after being sentenced to death for refusing to recant his Christian faith.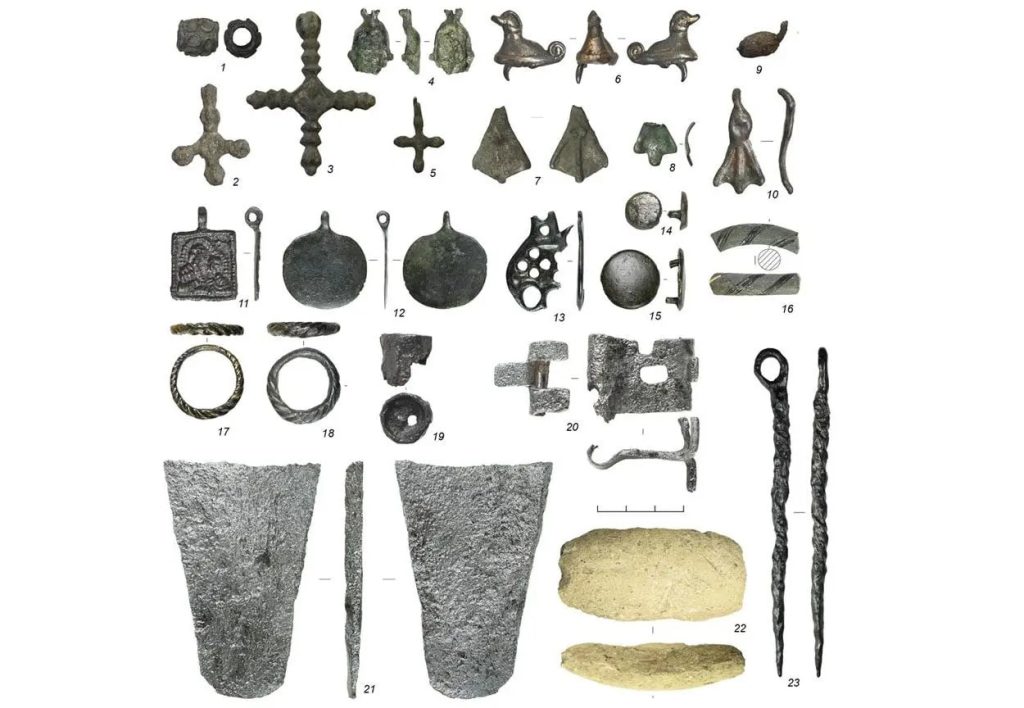 England, Ukraine, Ethiopia, and Georgia, as well as Catalonia and Aragon in Spain and Moscow in Russia, have historically claimed George as their patron saint. Moscow's heraldic emblem depicts Saint George slaying a dragon, which has been a part of Russia's coat of arms since the 16th century.
Excavations of the settlement have uncovered 150 items made of metal, glass, stone, bone and ceramics, in addition to ordinary household items such as iron knives, a key, a whorl, lead weights, a whetstone, and a clay fishing sinker.
The team has also found decorative items such as rings, beads, buttons, fragments of bracelets, belt buckles, and pendants depicting a cockerel, duck, and a two-headed horse, as well as a rare fragment of an encolpion depicting the Virgin Mary and Child.
Cover Photo: Russian Academy of Sciences