Archaeologists have unearthed a bone workshop and an oil lamp shop in an Aizanoi ancient city in the Çavdarhisar district of Kütahya in western Turkey.
The Kütahya Museum Directorate is conducting excavations in Aizanoi, often known as the "Second Ephesus" and home to Anatolia's best-preserved Zeus Temple.
Excavation coordinator Kütahya Dumlupınar University (DPU) Faculty of Arts and Sciences, Head of Archeology Department Prof. Dr. Gökhan Coşkun told Anadolu Agency (AA) that they are working in areas that have never been excavated before.
Professor Gökhan Coşkun stated that they worked in two distinct wings of the agora (a public open space used for assembly and marketplaces in ancient Greece) and uncovered significant discoveries that would shed light on the ancient city's economic and social life.
Underlining that they were able to identify two of the uncovered shops, he said thousands of bone fragments were found inside one of the stores. Some were unprocessed and it seems they were used as raw materials, he added.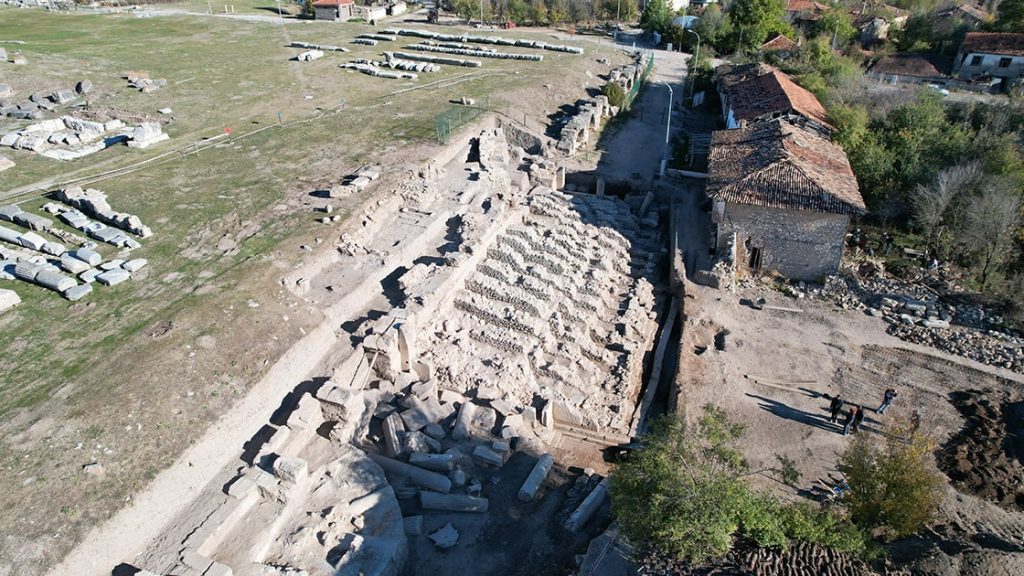 "As far as we understand from this, there was a local bone workshop in Aizanoi during the Roman period and located in the agora. It served as both a workshop and a sales place. Among the processed bone artifacts were mostly women's hairpins and spoons," Coşkun said.
"During the excavation of the other shop, we encountered many intact and broken oil lamps, which are the lighting tools of the ancient period. Findings from both shops show local production in Aizanoi. It is an important finding for us that we determined that important production activities were carried out in Aizanoi during the Roman period."
Prof. Dr. Gökhan Coşkun added that they aim to bring the unearthed areas to tourism.
This city is located in the municipality of Çavdarhisar, 57 kilometers from the city center of Kütahya. The city experienced its golden age in the second and third centuries AD and became the center of episcopacy in the Byzantine era.
The city features a temple dedicated to Zeus that is the best preserved in Anatolia. There is also a large theatre and a stadium adjacent to the theatre. There are two Turkish-style baths, one of which is mosaic-decorated, as well as a gymnasium, five bridges on Kocaçay that are being used today, an old dam, a trade house, and avenues with columns on both sides, necropolis regions, and Metre Steune sacred cave.