The body of a five-year-old fair-haired girl who lived in the late Middle Ages and was most likely of noble ancestry was discovered 20 centimeters underneath the floor of the main altar of the chapel of the Real Alcázar of Seville.
In the analysis of this Alcázar burial, archaeologists believe that her coffin was moved to a more sacred spot next to the main altar in the 1930s.
On April 20, a team of archaeologists discovered the lid of the small lead sarcophagus while experimenting on the palace's 16th-century ceramic tiles before the restoration project designed by artist Cristobal de Augusta. A shattered wooden coffin and a complete skeleton first discovered at Real Alcázar, included linen, shoe leather, and two mother-of-pearl buttons among the items found in the sarcophagus.
The Spanish daily El Pais her statement according to lead anthropologist Professor Juan Manuel Guijo, the coffin measured about 4 feet long (1.21 m) and 1 foot deep (0.3 m), which is in keeping with styles in the 13th or 14th century. The archaeologist said when he discovered the Alcázar burial, the little girl's arms were "semi-flexed and crossed over her thorax."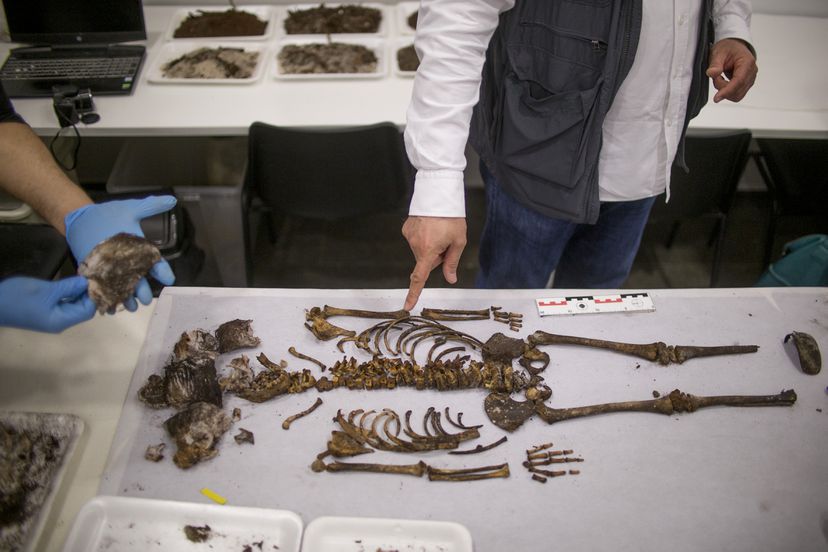 The research team's leader, archaeologist Miguel Angel Tabales, is certain that the altar of the chapel was not the little girl's original burial site. He also thinks she must have come from a wealthy family to be buried in the royal palace. Around 1930 and 1940, the chapel was repaved, and she was placed to the side of the altar, according to his theory. Tabales thinks the coffin was found and moved here while the chapel was being rebuilt.
Researchers will receive Carbon 14 test results within 3 months and it will be possible to find out the age of the girl.
Although the finding of the little girl is extraordinary in and of itself, there are still unsolved mysteries at this place. The first concerns the contents of six small boxes discovered alongside the human remains.
However, Miguel Ángel Tabales said that the discovery of the little girl is perhaps "the tip of the iceberg," and that "there could be more in the basement of the chapel."
Whether the researchers are right will become evident over time. But it is already possible to say that this discovery will lead to other discoveries.