Some parts of the Old City of Ghadames, located in an oasis about 600km southwest of Tripoli near Libya's border with Algeria, have collapsed due to rainfall.
Ghadamès is one of the oldest and most celebrated Saharan cities, called the 'Pearl of the Desert', (Jawhart Al-Sahra) or "Jewel of the Desert" by Arab sources.
The city, which for at least 2,000 years played an important role in the trans-Saharan trade network, has now begun to collapse due to rains.
Archaeologists believe that the Old City of Ghadames needs serious state attention to intervene quickly to protect this cultural heritage from extinction, as it needs permanent maintenance.
The Old City of Ghadames has been settled since prehistoric times and was the location of a Roman garrison from 19BC.  But the characteristic buildings of the old town that remain today date from the period of prosperity associated with the booming of trans-Sahara trade from the 13th to 16th centuries.
Ghadamès is an outstanding settlement in the Saharan pre-desert renowned for its unique built heritage, which was developed using long-lasting traditional practices stemming from the severe climate's special needs.
As an important and peaceful hub for caravan commerce as part of the trans-Saharan network, it has played an essential role in the region's cultural and economic life. It has been occupied by indigenous peoples known as the Phazanii since at least the late first millennium BCE and has served as a crossroads for major cultures and religions, including the Garamantes and Romans who called it Cydamae, the Byzantines, Christianity, the Islamic conquest, Ottoman control, visits by European explorers in the 19th century, and subsequent interventions during the colonial period and WWII. It has kept its own unique customs and rituals throughout.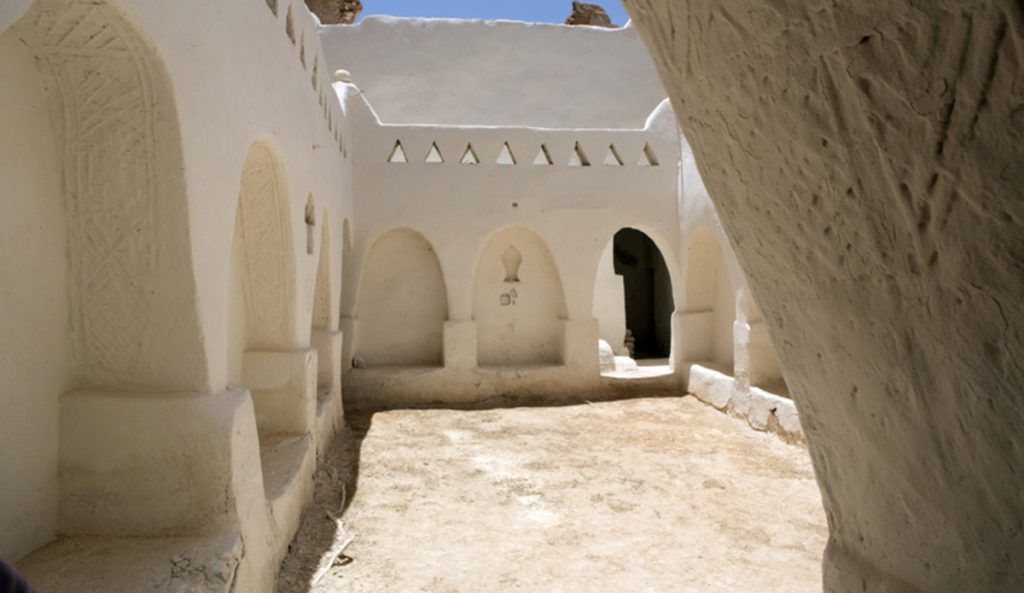 The Old Town of Ghadames is roughly circular in layout and the outer walls of the houses around its perimeter are thickened to create an external fortification for the town.  The architecture of the flat-roofed houses adheres to a standard plan, with the ground floor used for storage, warehousing, and business, with family living quarters on the first floor and the inter-connected roof-top terraces reserved for women.  The first-floor rooms are often opened over the narrow alleys below, creating a network of cool passageways through the town at ground level.
The old town of Ghadames is registered as a UNESCO world heritage since 1986.
On 25 November 2020, the World Heritage Centre held an 'Online technical meeting for Libyan properties on the List of the World Heritage in Danger to support Libya in drafting the desired state of conservation and corrective measures for the eventual removal of Old Town of Ghadamès from the List of World Heritage in Danger.