Discovered by archaeologists at Caerlaverock Castle, eleven kilometers south of Dumfries on Scotland's south coast, a trio of Islamic glass fragments inspired a collaborative community project to reveal the story of their origins and recreate the original object – a medieval Islamic glass drinking beaker.
The first and only glass of its kind to be found at an archaeological site in Scotland, it is believed that the original vessel would have been made in modern-day Syria, Iraq or Egypt during the 12th and 13th centuries, all of which were important centers of Islamic glassmaking.
The fragments are inscribed with part of the Arabic word for 'eternal', likely used as one of the 99 names of Allah, which suggests that it could be an extract from the Qur'an.
Although tiny in size – at 3.1cm x 2.8cm – the two fragments together are smaller than a ping pong ball and give clues to Scotland's contact with the wider world during the medieval period.
Stefan Sagrott, Archaeologist and Senior Cultural Resources Advisor from Historic Environment Scotland (HES) said: "Discovering Islamic glass from the 13th century in a Scottish castle, is an absolutely astounding find."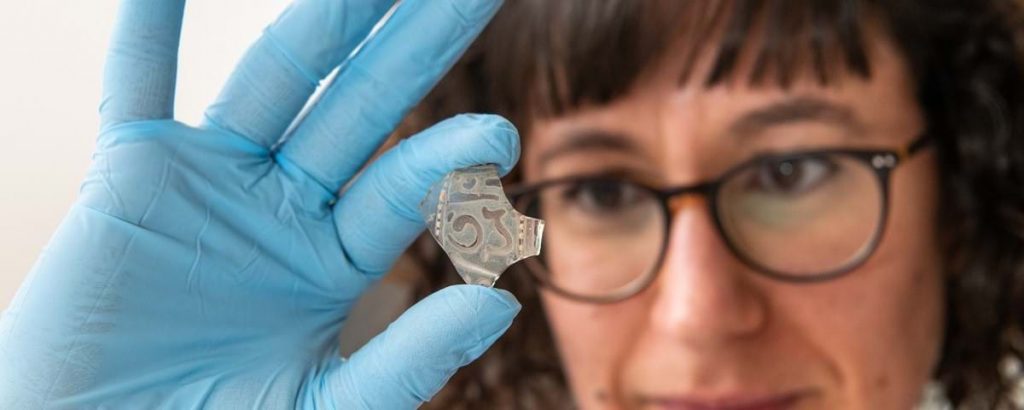 It's a surprising discovery because, glass wasn't commonly used at this time. During Scotland's medieval period, glass was mainly used for stained glass windows in monasteries, cathedrals, and some smaller churches and chapels. However, the glass wouldn't be used in castles and tower houses until centuries later.
The glass was very uncommon and frequently deteriorated in Scotland's acidic soil. The fragments are once again in the spotlight as the centerpiece of a community project called Eternal Connections, which has sparked debate and learning about the history of Scotland's Muslim communities, almost 25 years after they were first found.
Eternal Connections used cutting-edge scientific analysis and research data to forge new ways of understanding the contemporary and historic connections between Scotland.
Alice Martin, a Stirlingshire-based visual artist, researched contemporaneous medieval Islamic glass and collaborated with a team of Historic Environment Scotland (HES) experts who used cutting-edge techniques to analyze the fragments.
As a result, Martin was able to digitally reconstruct a 3D model of the beaker's original shape using the glass fragments. It has a vase-shaped form and a blue and gold line below the rim with Arabic writing on it and is also decorated with a golden fish.
Martin said: "Scientific analysis has shown there would once have been red and gold decoration, as well as the blue and white that's still visible. This type of Islamic glass was thought to be valuable, it's very precise and delicate.
"From the scientific evidence, research, and known history, we thoroughly considered how an Islamic glass drinking beaker ended up in Scotland, and we suspect it may have come to Caerlaverock Castle through trade or could even have been brought back by returning crusaders."
The project worked with community groups, including the Muslim Scouts in Edinburgh and the Glasgow-based AMINA – Muslim Women's Resource Centre, to provide a series of informative workshops centered on the story of the Islamic glass.
The workshops focused on the beaker shape, decorative designs, and calligraphy using Arabic script and Gaelic onto 3D prints. Other elements focused on archaeology and demonstrated the technology used to analyze the glass fragments.
An interactive online experience has been created using the ThingLink platform to share the project outcomes which can be explored. Visitors can explore a Sketchfab 3D model of the artistic recreation and download a model to 3D print to paint their own version.
HES was awarded funding from the Arts and Humanities Research Council's Capability for Collections Fund to purchase the scientific and digital equipment used to analyze the glass fragments, as well as the Public Engagement Fund to carry out the Eternal Connections project.
Cover Photo: Historic Environment Scotland