During the rescue excavations carried out at the Körzüt Castle in the Muradiye district of Van province in eastern Turkey, 2 cuneiform inscriptions and a 2800-year-old Urartian Susi temple were found. Susi Temple: A kind of temple found in Urartu, which is a square, single-chambered tower-like buildings.
Körzüt is the modern Turkish name for an Urartean fortress located on a rock spur at the southern end of the Muradiye/Berkri plain, approximately 3 km north of Uluşar, in the Muradiye district of Van province in Türkiye. According to an inscription of the Urartean King Minua (9th / 8th century BCE), the fortress was built by Minua.
Rescue excavations in Körzüt Castle were started on October 13, with the permission of the Ministry of Culture and Tourism, under the scientific consultancy of Yüzüncü Yıl University, Faculty of Letters, Department of Archeology, Associate Professor Sabahattin Erdoğan.
Associate Professor Sabahattin Erdoğan stated that they started the 2023 Körzüt Castle rescue excavation on October 13 and said, "During our work, we identified an Urartian Temple that is approximately 2800 years old.
"This temple is a tower-type susi temple, which we call rizarit (buttress). Before starting the excavations, there was a citadel extending from north to south and a structure at the southern end. We observed two buttresses in the southeast and southwest, which we call 'rizalit.' These buttresses were part of the temple within the building. During further work, we initially identified a cuneiform block on the temple's northern façade. This block bears an Urartian cuneiform inscription consisting of six rows. A second block with a cuneiform inscription was discovered. These inscriptions indicate the site's significance as a temple."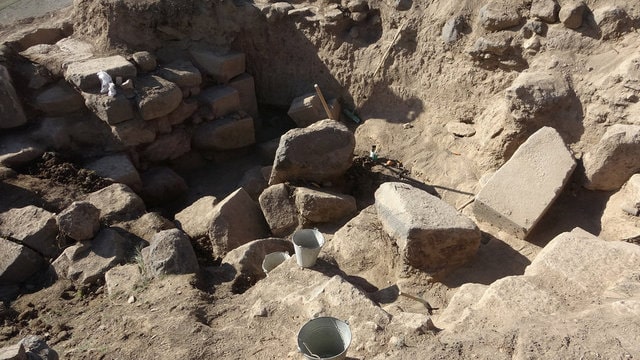 Our work on the inscriptions continues. "Apart from this, maybe we will learn what the name of the castle was in the Urartu (ancient) period, thanks to these inscriptions," he added.
Associate Professor Erdoğan explained that they had identified another temple similar to this Susi temple in the studies carried out in the same region last year, and said, " Having more than one temple in a castle is not a very common understanding among the Urartians, in this respect, these structures are very important,"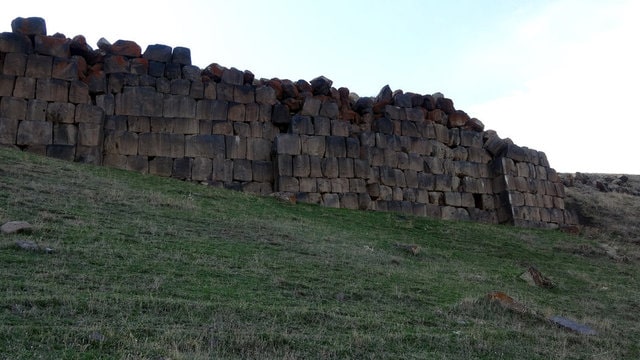 Muradiye District Governor Melih Aydoğan said that rescue excavation work continues. District Governor Aydoğan said, "The authorities informed us that these inscriptions belong to the period of King Minua and describe a campaign,".
The plastered mud bricks found at the site feature blue plaster typical of Urartian temples, and archaeologists speculate that mythological scenes carved in brown or black might be present on these blocks.