A deer stone was found in the Tarmal-Sai settlement in the Kochkor district of the Naryn region in eastern Kyrgyzstan. Deer stones, also known as reindeer stones, are ancient megaliths with symbols carved into them.
Mongolia is rich with stone sculptures such as deer stones and complex heritage sites that belong to Bronze Age culture. Deer stones name comes from their carved depictions of flying deer. Deer stones are a distinctive feature of the Saka era. A few deer stones have been discovered in Chui valley and Issyk-Kul Lake.
Deer stones will usually be found together with extraordinary monuments called khirgisuur, with slab burials or in some cases with petroglyphs forming a complex site.
Joldoshbek Butoshev, a resident of Tarmal-Sai, noticed a round stone with drawings while doing irrigation work and brought it home, thinking it might have historical significance.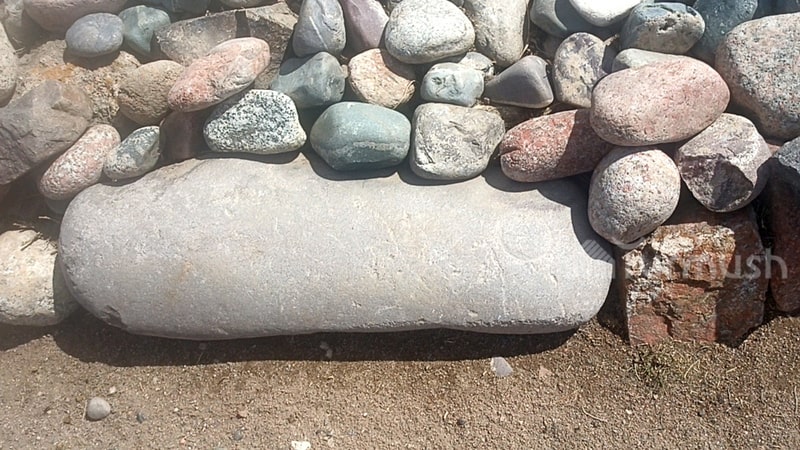 Butoshev showed the discovery to a team of archaeologists visiting the region in 2022 under the direction of Oroz Soltobaev for research. The archaeologists determined that the stone was around 2000-2500 years old and suggested handing it over to a historical museum.
The stone is 1 meter long and weighs approximately 40-50 kilograms. On both sides of the stone, there are ritual sun signs, which are associated with the Saka and Wusun, who worshipped the sun.
According to the historian and founder of the historical museum in Kara-Suu village Bolot Boobek, the find is a deer stone that dates to between 2000 and 2500 years ago.
Deer stones are unique Bronze Age and Early Iron Age monuments found primarily in Mongolia and some Central Asian countries. Deer stones represent the Bronze Age funeral practice, sacrificial ritual and ideology, and animal-style art that spread among ancient nomads.
Researchers believe these statues were dedicated to leaders and great warriors of a tribe.