On August 10, the National Museum of China launched an exhibition featuring archaeological finds from ancient China's Qin (221–207 BC) and Han (202 BC-AD 220) dynasties excavated in Guangzhou, the capital of Guangdong Province in south China.
Among the objects on exhibit, several representatives remain to provide witness to the identity, class, and rank of the Nanyue Kingdom's top nobles. The architectural elements, coins, and wooden slips from the Nanyue Palace depict the high-level palaces' characteristics and the aristocracy' luxury lifestyle at the period.
"The relics may highlight the important achievements of archaeological work in Guangzhou in recent years, as well as demonstrate the historical and cultural aspects of the Lingnan area going back more than 2,000 years,"  Zhai Shengli told CGTN, the curator of the exhibition department at the museum.
The gold dragon button seal discovered in the Nanyue King tomb has sparked widespread interest due to its design, which features a famous dragon-like tiger, and its material, which broke the rule that all imperial seals were made of white jade.
The gold seal was discovered between the tomb owner's chest and abdomen, indicating the most credible evidence of the owner's identification.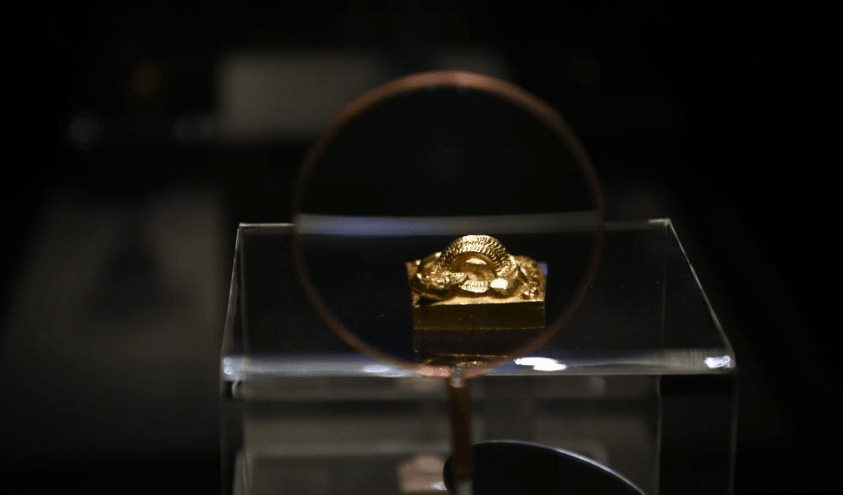 According to Zhai Shengli, "The gold seal of the king of Nanyue, Zhao Mo, unearthed at the Nanyue King tomb is the largest gold seal excavated so far. It is also the only gold dragon button seal, which reflects the identity and status of the Nanyue rulers, and a series of historical facts recorded in the literature at that time,"
Emperors and the high aristocracy of the Han Dynasty wore jade funeral clothes. The jade burial suits of ancient China were fashioned as armor for the afterlife, threaded in silver and gold from hundreds of plates of precious stones to avoid fatal deterioration.
The jade burial suits in this exhibition are more special because it is sewn with silk threads, not gold or silver wires.
Zhao's body and his jade burial suit, which are on exhibit, were so deteriorated that the jade fragments dispersed over the ground following excavation. The specialists worked for more than three years to repair the outfit.
"The jade burial suit unearthed at the Nanyue King tomb is a relatively ancient suit in our archaeological findings. It is about a decade earlier than the jade clothes sewn with gold wire unearthed at the Han tombs of Mancheng. Besides, this jade burial suit is not sewn with gold, silver, or copper wires as recorded in the literature, but sewn with silk threads," said Zhai. 
The exhibition, which began with the display of 332 cultural treasures from the Qin and Han eras, will run until November 9.