This year's excavations at Porsuk-Zeyve Höyük (Zeyve Mound) near the Porsuk village of the Ulukışla district of Niğde, located in the center of Turkey, uncovered the plaster walls of the Persian period.
The works in Porsuk-Zeyve Höyük, which started in 1968 with the permission of the French Archeology Institute from the Turkish authorities, continue this year as well.
During the excavations carried out in the previous years, Hittite hieroglyphs inscribed on sandstone dating to the 8th century BC, fortification and watchtowers used as garrison in the Hittite period, and castle walls and plaster remains from the Iron Age were unearthed. During this year's excavations, walls made of gypsum stone belonging to the Persian period were found.
Head of the Excavation Team, University Polytechnique Hauts-de-France Lecturer Associate Dr. Claire Barat, said that a team of 15 people from the USA, France, Italy, and Turkey worked on this year's excavations.
Stating that they were excavating the highest part of the mound, Barat told that they also cleaned the adobe fortification walls of the Iron Age in the 8th and 7th centuries BC.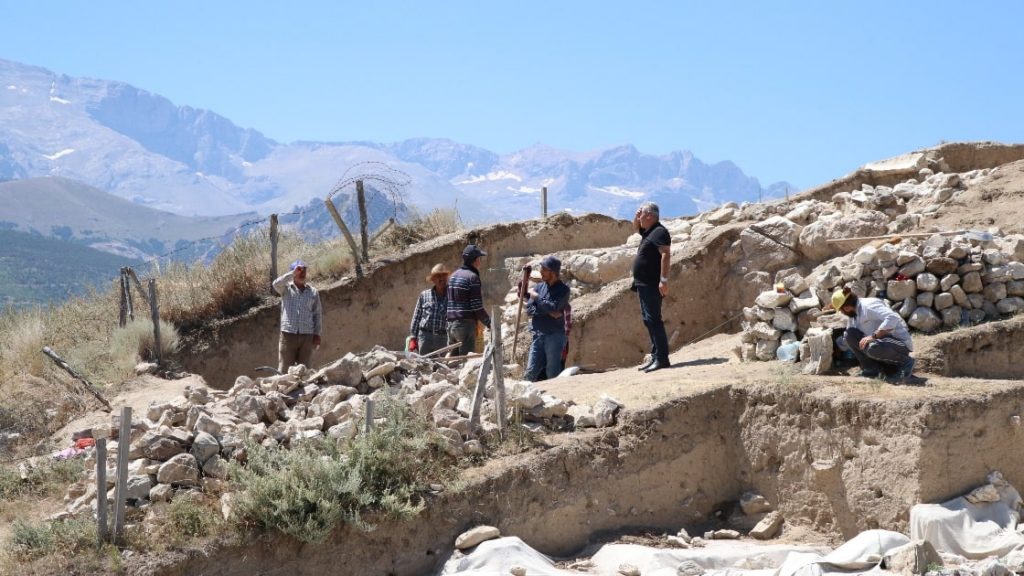 The plaster walls of the Persian Period have been reached
Stating that they will carry out conservation work on these walls next year, Barat said:
"Sometime after the Iron Age walls were built, the wall facade was covered with gypsum stones and stone filling. These stone structures were used in the Persian and Achaemenid periods in the 6th and 4th centuries BC. It is very important because there are few artifacts from the Persian period in the Cappadocia region. This is an extremely strategic region in the Hittite period as well as in the later periods. Presumably, the area was occupied by a local ruler at that time. From here, the main road from Sinop to Tarsus and passing through the Cilician gates is controlled."
Barat also added that during the excavations, they learned that these walls were surrounded by the Romans and suffered a fire.
The walls were later repaired and occupied by the Romans. For this reason, it is thought that southern Cappadocia came under Roman domination not peacefully, but as a result of a fierce war.
Noting that the mound is very important in terms of its location, Barat emphasized that the destruction of the stone walls during this year's excavations showed the violence of the Roman attack and that all previous levels were destroyed.
Noting that the Persian walls found here are like those in Persepolis, Cyprus, and Palestine, Barat added that the researchers are continuing.