The melting of an ice sheet in Norway has uncovered a pair of remarkably well-preserved skis that had been undisturbed for almost 1,300 years.
The first of the skis was discovered seven years ago at the Digervarden ice patch Norwegian county of Innlandet. Seven years later, the Digervarden ice patch melted enough to reveal its wooden counterpart – together they make the oldest pair of skis ever to be found.
On September 26, a group of Norwegian archaeologists headed by the Secrets of Ice program hiked three hours up Mount Digervarden to the site of the first ski. Using GPS coordinates and pictures from the first visit, the researchers discovered the second ski beneath the ice, which they cut away with an ax and melted with boiling water to liberate the item.
Archaeologist Lars Holger Pilø, who was part of the excavation, wrote in a blog post that the preservation of the new ski is much better, which may be due to it being deeper in the ice.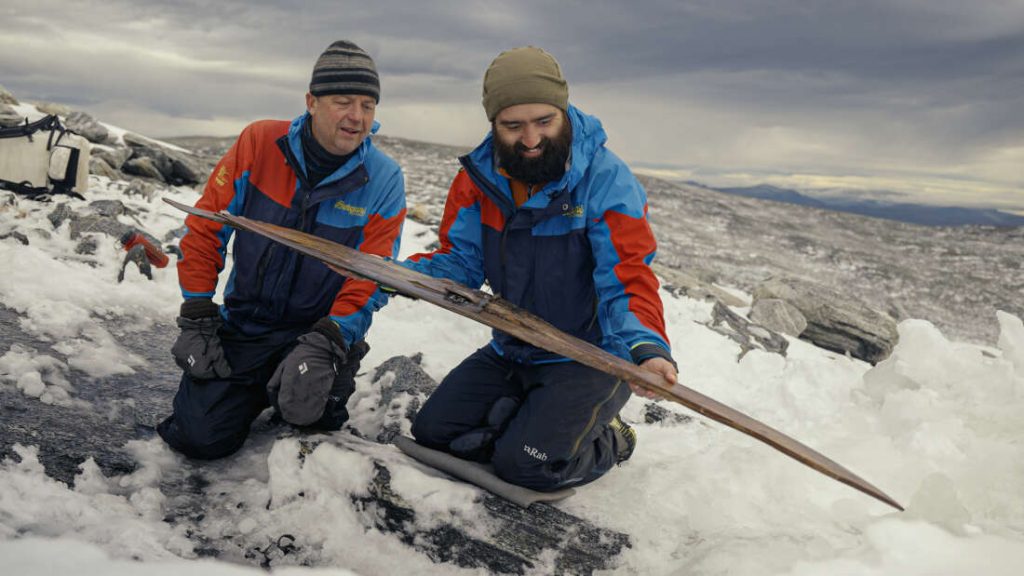 The wooden ski was 187 centimeters (74 inches) long and 17 centimeters (6.5 inches) broad, approximately 17 centimeters (6.5 inches) longer and somewhat wider than the first found ski. The identical footing, composed of three twisted birch bindings, a leather strap, and a wooden plug, indicates that each was part of a pair. The foothold also shows signs of repairs, indicating the ski was well used, and the back is missing, likely caused by damage over the centuries.
While evidence of Iron Age skis like this is uncommon, it is known that skiing has been practiced in Scanadvadia for at least 4,000 years. It is more likely that it originated as a practical model of transportation over snow-capped plains and hills than as a leisure activity for fun-loving hunter-gatherers.
"The skis are not identical, but we should not expect them to be. The skis are handmade, not mass-produced," Pilø shared in the post
'They have a long and individual history of wear and repair before an Iron Age skier used them together and they ended up in the ice 1300 years ago.'