The 8,000-year-old numeral stone, which is thought to have been used while calculating during the Yeşilova Höyük (Yeşilova Mound) excavation carried out in the Bornova district of İzmir, has been found.
Ege University, Department of Archaeology faculty member, and head of the Yeşilova mound excavation, Assoc. Dr. Zafer Derin said that they discovered an equilateral quadrilateral stone the size of a broad bean during the excavations at the mound.
Stating that the stone, which they determined to be made of black hematite, was dated to 8 thousand years ago, Derin noted that such stones, which emerged from the Neolithic period, attract attention with their weight, color, and smooth surfaces.
Derin emphasized that the stone has a symbolic characteristic related to the mathematics of the prehistoric period and stated, "These types of stones have continued to be used as weights in commercial life 4,000 years before our time. It has made it easier to calculate and count in social life."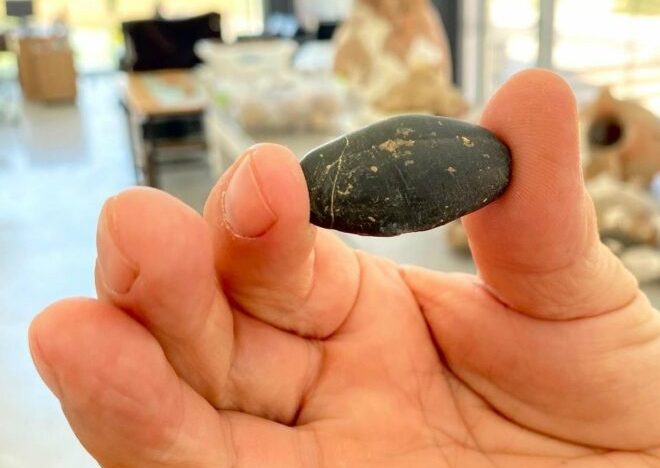 Assoc. Dr. Derin said that excavations continue in Yeşilova Mound, which brings the history of İzmir back 8,500 years and where nearly 200 finds are unearthed every year.
Yeşilova Höyük is a höyük in the Bornova district of İzmir, Turkey. It was discovered by chance in 2003 and archaeological excavations began in 2005 first under the patronage of first İzmir Archaeology Museum and the Republic of Turkey Ministry of Culture and Tourism and Ege University. The settlement dates back to early Neolithic period (6.500 BC) and it is the oldest one discovered in the whole region.
In progress since 2005, excavation has already revealed some critical traces of the Neolithic Age and much about the early settlers in the Izmir area off the Aegean coast, their surroundings, and their culture. For example, they lived in separate houses, with separate roof systems, unlike Catalhoyuk in middle Anatolia, where the houses are next to each other.
Cover Photo: AA