Archaeologists in East Iceland have found a sandstone carved with a Viking ship that may be the oldest picture ever found in the country.
The stone was found at the archaeological site Stöð on Stöðvarfjörður in East Iceland in a longhouse that is believed to predate the permanent settlement of the island.
"Bjarni F. Einarsson, the archaeologist leading the excavation, says that the stone was found in the wall of the older cabin. Such carvings of ships are quite common in the Nordic countries, carved in bone, wood, or stone. This is the first drawing of a ship that he knows of that has been found in Iceland and must be the oldest drawing in the country," RÚV reports.
The first exploratory digs at Stöð took place in 2015, and archaeologists have returned every summer since to continue excavating the site, where they initially concentrated their efforts on a settlement-era longhouse.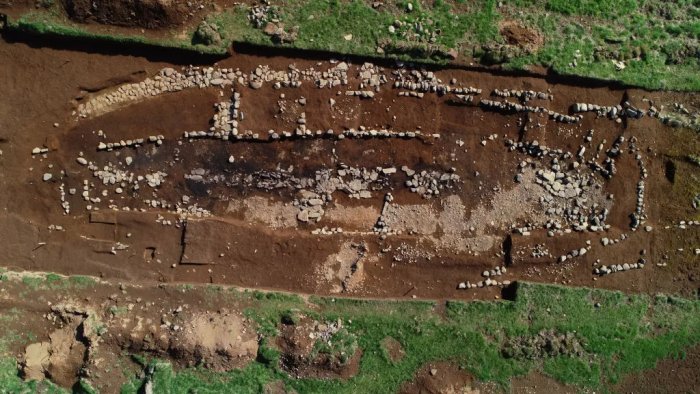 "The longhouse is among the largest found in Iceland, 31.4m [103ft] long. In Scandinavia, only chieftains' farms had longhouses larger than 28m [92ft]. It is also the richest longhouse ever excavated in Iceland. We have found 92 beads and 29 silver objects, including Roman and Middle Eastern coins," Bjarni F. Einarsson told Iceland Review.
The discovery of an even older longhouse beneath the settlement-era longhouse, estimated to date back to around 800 AD, some 75 years before Iceland's permanent settlement, adds to the significance of the site. The absence of domesticated animal bones is the most noticeable feature of the older structure.
"My theory is that the older longhouse was a seasonal hunting camp, operated by a Norwegian chief who outfitted voyages to Iceland to gather valuables and bring them back across the sea to Norway," Bjarni told Iceland Review. One of these valuables may have been walrus ivory: in 2019, DNA analyses and radiocarbon dating confirmed that Iceland was previously inhabited by a North Atlantic subspecies of walrus, now extinct.
Archaeologists used survey equipment this spring to scan a larger area around Stöð and discovered evidence of additional structures and boat burial sites.
Cover Photo: Facebook – The Landnámsskáli group in Stöð