Mexican National Institute of Anthropology and History (INAH) archaeologists have discovered a palace at an ancient Maya city in southeastern Mexico that shares characteristics with ruins in neighboring Guatemala, which could point to an "important" period of migration thousands of years ago.
The palace was found in the archaeological zone of Kabah—a pre-Hispanic settlement located in the Puuc region of Yucatán state, south of the modern city of Mérida.
The buildings were discovered by the team in advance of the Maya Train railroad project, a 930-mile (1,500-kilometer) railway that will traverse the Yucatán Peninsula.
The newly discovered palace has a main facade composed of a portico with eight pilasters—shallow, decorative columns attached to a wall—and nine openings, as well as an extension of 85 feet, INAH general director Diego Prieto Hernández said.
Researchers have named the newly uncovered Maya remains Petenero Palace. Hernández said the quadrangular structure appears to be more than 1,500 years old.
The palace was decorated with motifs of feathers, beads and birds that were carved into its architecture. Researchers think the roof of the building was made with a perishable material, such as guano palm, which has not survived.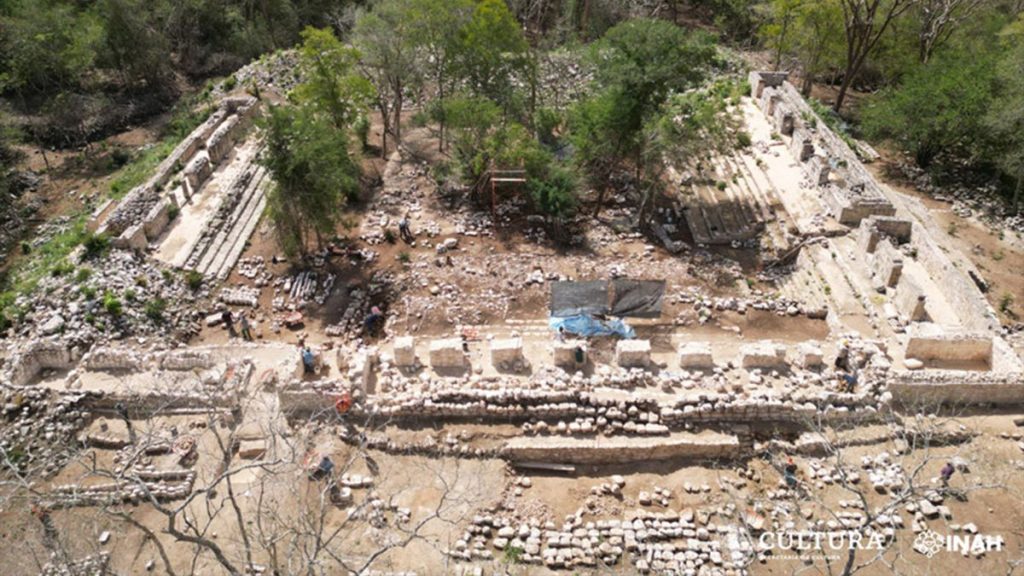 The palace shares some characteristics with Maya remains found in the Petén Department of Guatemala, Hernández said.
Until recently, the housing complexes, along with other parts of the ancient city, were covered with vegetation, the INAH statement noted. The city was founded by people who came from the Petén region, which includes Guatemala and Belize, sometime between A.D. 250 and 500, although the precise date of the building's construction is unknown. Toscano Hernández said the city's first ruler may have lived in the structures.
"We propose that an important migration from that site founded Kabah," Hernández said.
The Maya civilization dominated what is now southeastern Mexico, Guatemala, Belize, and the western areas of El Salvador and Honduras for more than 3,000 years until the era of Spanish colonization.