An 8,000-year-old Yarmukian Mother Goddess figurine was found at Sha'ar HaGolan archaeological site, located on the northern bank of the Yarmouk River, in the center of the Jordan Valley.
In two fragments, the 20-centimeter figure was discovered in the Sha'ar HaGolan Yarmukian archaeological site near to the wall of a house.
With an area of ​​3000 m2, the site is one of the important Neolithic settlements in the Near East, yielding important findings including monumental courtyard structures, a system of streets, a water well, and the largest collection of prehistoric art ever found in Israel.
The Yarmukian culture was the first culture in prehistoric Israel and one of the oldest in the Levant to make use of pottery. The culture is especially famous for its mysterious and distinctive "Mother Goddess" figures, which are thought to have been part of a Yarmukian fertility cult.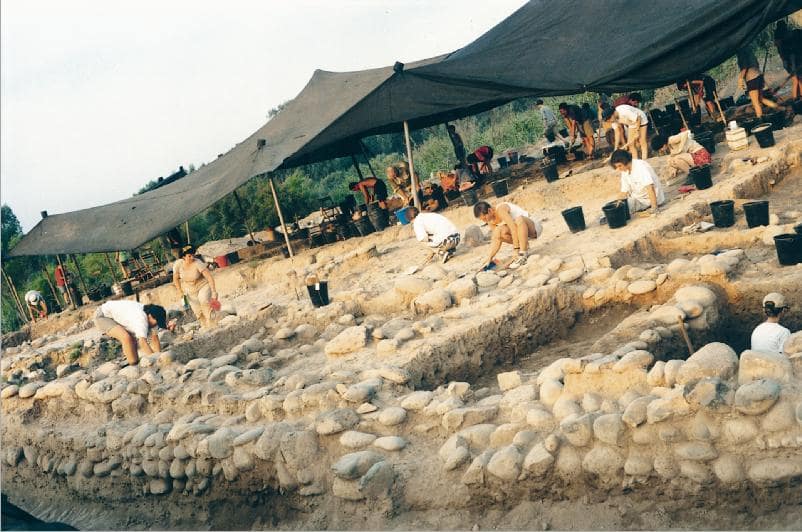 The 20-centimeter figurine, which was made in the typical sitting position, was discovered broken in two pieces next to a wall of a house, according to excavation co-director Anna Eirikh-Rose, an Israeli Antiquity Authority Judea district archaeologist.
The broken figurine was covered by a bracelet with a red bottom, the color which represented fertility. A schematic stone with etched eyes and mouth was also uncovered.
"This woman ceramic figurine is a hallmark of Yarmukian culture," Eirikh-Rose said. "This is one of the largest examples of the figurine found. It is of a large, seated woman with big hips, a unique pointed hat and what is known as 'coffee-bean' eyes and a big nose. One hand is positioned on her hip and the other one under her breast."
All the little details of the figurine are important to cult symbolism, and he noted that the process of creating such a figurine involved a complex method of wrapping and layering clay around a central cylindrical core and was certainly not easy.
The excavation is being conducted in collaboration with the French Center for Research in Jerusalem, which is co-directed by Dr. Julien Vieugue.
Cover Photo: ANNA EIRIKH-ROSE