Archaeologists have made new discoveries in the Umm Jirsan cave in the Harrat Khaybar lava field in northern Saudi Arabia.
The Heritage Commission announced on Monday that archaeologists and paleontologists from the commission, in collaboration with the Saudi Geological Survey, King Saud University, and the German Max Planck Institute, have made new discoveries in the Umm Jirsan cave, located in the Harrat Khaybar lava field, which will be published in the international journal Archaeological and Anthropological Sciences soon.
Umm Jirsan's lava tube cave has archaeological and palaeontological deposits that have been radiocarbon dated to several eras spanning over 7,000 years. The great number and remarkable preservation of tens of thousands of animal bones amassed throughout time in the cave are especially noteworthy.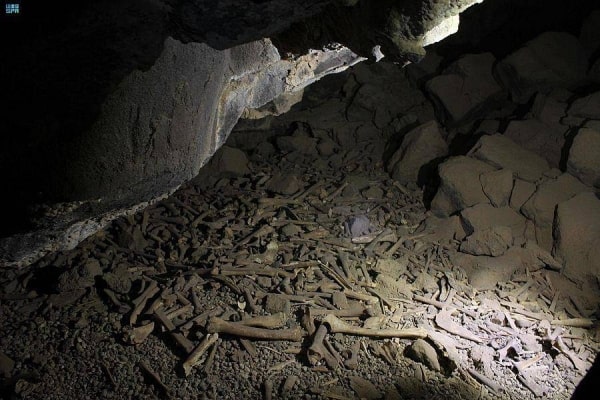 The bone accumulations were mostly made up of striped hyena, horse, wild ass, and domesticated donkey bones, as well as wild and domesticated camel, ibex, goat, and cow bones.
In addition to animal bones, human skulls were discovered, which were most likely stolen from prehistoric graves.
The bones are currently being tested for DNA, and research on the history of pastoralism and animal domestication in the Arabian Peninsula is underway.
The finding is one of a recent sequence of discoveries by the Heritage Commission proving that the Arabian Peninsula has been home to people for thousands of years, in addition to the various domesticated and wild animals that have lived and bred there throughout the years.