A rare hoard of Roman pewter has been discovered in Euston, western Suffolk, in eastern England. The rare discovery includes Roman pewter plates, platters, bowls, and a cup.
The vessels' remains were carefully stacked in a pit, suggesting they were buried as a single group, possibly for safekeeping or as an offering.
The hoard was discovered in Autumn 2022 by local metal detector user, Martin White, whilst taking part in an East of England Rally – an organized detecting event. They are now on display at the West Stow Anglo-Saxon Village and Museum, near Bury St Edmunds, until January 2024.
Faye Minter, Suffolk County Council's Archaeological Archives and Projects Manager, said: "This is a significant discovery. The larger plates and platters were used to allow food to be served communally and the octagonal bowls may have a Christian reference. Similar hoards are found across southern Britain, including from the nearby large Roman settlements at Icklingham and Hockwold."
Suffolk County Council Archaeological Service facilitated the excavation of the hoard, which was carried out by Wardell Armstrong and Norfolk Museum Service conservators.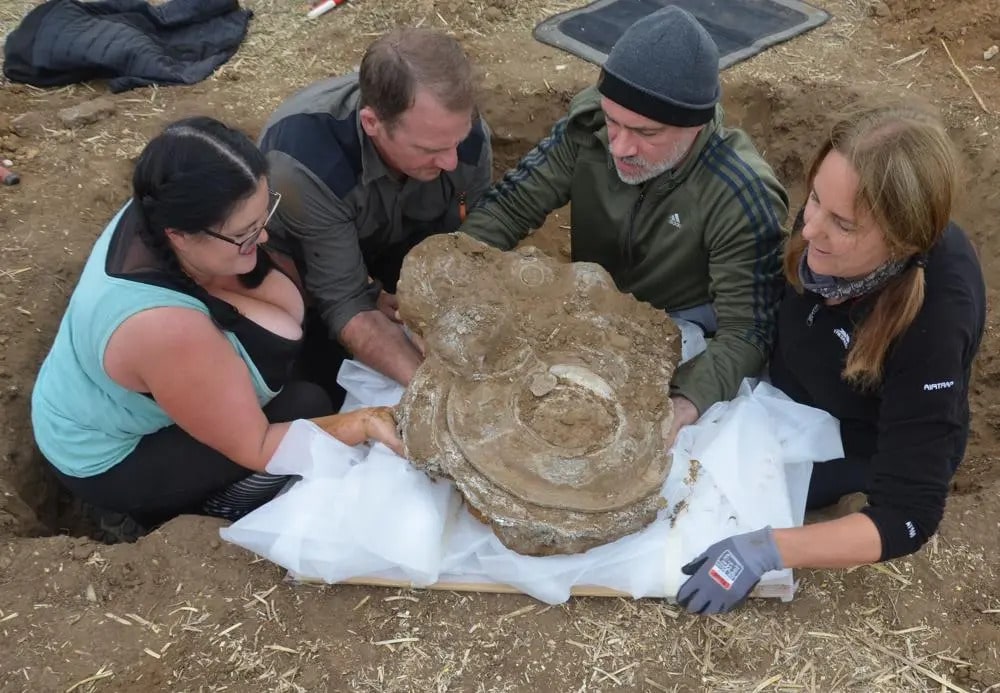 There is evidence of heavy plow damage to the vessels, and advanced corrosion has fused several of them together. The main stack contained five plates and platters nested on top of each other.
All work was funded by the Euston Estate and East of England Rallies.
However, pewter is not a precious metal, this treasure of inestimable archaeological value does not qualify as official treasure and therefore belongs to the property owner.
The hoard was discovered on the Euston Estate, making the Duke of Grafton the owner. He donated it to the West Stow Anglo-Saxon Village and Museum, which is located near Bury St Edmunds.
The Duke of Grafton from The Euston Estate, said: "We were happy to donate this hoard and make it available for the public to see. Everyone can then share in the joy of this historic Suffolk find."
Cover Photo: Suffolk County Council