Polish authorities said they had unearthed two mass graves near the former Nazi concentration camp Soldau containing the ashes of at least 8,000 Poles massacred by the Nazis during World War II.
A mass grave containing 17.5 tonnes of human ashes has been unearthed in northern Poland, close to the former Nazi concentration camp of Soldau. The estimate is based on the weight of the remains, with four pounds roughly corresponding to one body.
The remains were unearthed in Ilowo Osada in the Bialucki forest, around 160 kilometers north of the capital Warsaw.
The discovery was made by the Polish Institute of National Remembrance (IPN), which documents war crimes.
The bodies are thought to have been dug up and burned in a Nazi operation to hide traces of their murders.
Researchers said the victims were assassinated and buried at one point, but then dug up and burned by members of the Nazi party in an attempt to cover up the murders. Special investigators believe the Nazis later tried to hide the remains by planting trees on burial pits.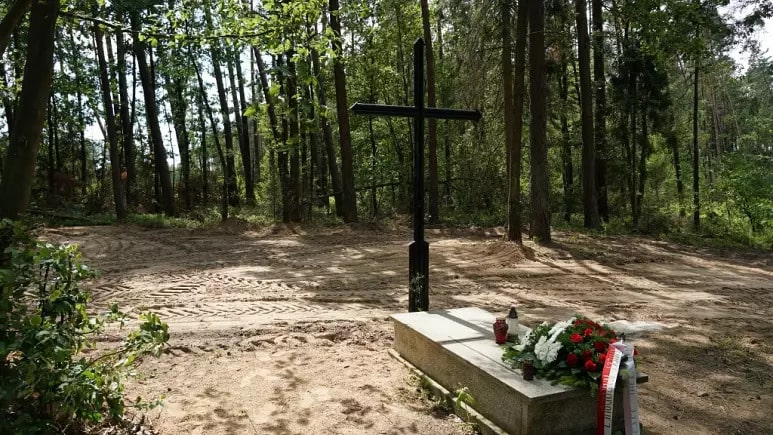 The Nazis murdered Jews, political opponents and members of the Polish elite at Soldau. An estimated 30,000 prisoners and political opponents were killed at the camp, but some historians say the number could be much higher.
Around six million Poles died during the war, including three million Jews.
"We have taken samples from the ashes, which will then be studied in the laboratory," Andrzej Ossowski, a genetics researcher at Pomerania Medical University, told AFP.
"We will be able to carry out DNA analyses, which will allow us to learn more about the identity of the victims," he added.
Archaeologists have found hundreds of traces of clothing, buttons, and other items, but nothing of value, indicating the bodies were robbed before being set alight.
A stone monument now stands in the area where the graves were dug, with the inscription 'Nieznani meczennicy Polegli za polskosc. 1939-1944' in Polish and reads 'Unknown martyrs they fell for Polishness. 1939-1944' in English.
Officials unveiled the monument on Wednesday, noting that the war crimes committed on the land will not be forgotten.
Cover Photo: Soldau camp. Wikipedia