During excavations at an Anglo-Saxon cemetery on military training lands on Salisbury Plain, military veterans have unearthed the richest tomb found this year.
The Salisbury Plain Military Training Area is located in the center of Barrow Clump, which is on the east side of the Avon Valley. It is the location of a sizable, partially preserved Early Bronze Age burial mound that includes a Beaker funerary monument from an earlier period, seals a Neolithic land surface, and served as the center of an Anglo-Saxon cemetery with the majority of the 70 graves dating to the 6th century AD.
The veterans, who included a team from Wessex Archaeology and DIO's chief archaeologist, Richard Osgood, knew the site had the potential to yield some exciting archaeology, and the final dig at the Avon Camp cemetery did not disappoint.
The team has unearthed a large bone and antler comb and some iron shears, in what they describe as the richest grave uncovered this year. The items, which are from the same burial, are 1400 years old and have generated much excitement at the site.
The dig was made possible by the participation of Operation Nightingale (Exercise Beowulf), an innovative military initiative to involve injured service personnel in archaeology to aid their recovery.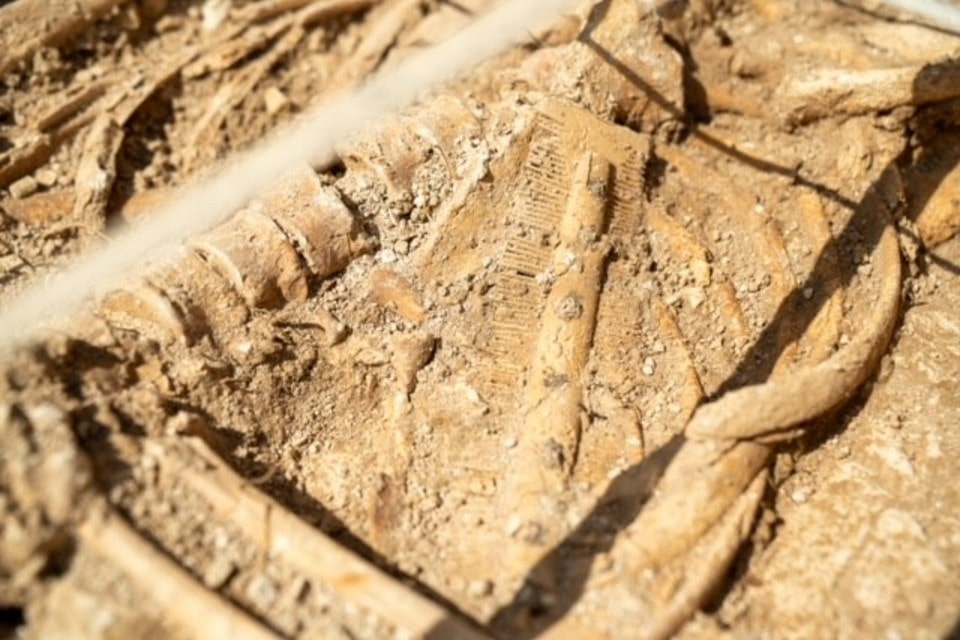 This year, for the first time, the team is joined by members of the Army Widows' Association, a volunteer-run organization, and charity that offers support and friendship to the widows and widowers of servicemen and women.
DIO's Head Archaeologist, Richard Osgood, said: "We are excited to be back at Avon Camp for this third and final time, this site has provided some incredible archaeology and allowed us to gain a real understanding of what life was like for people living on this land in the 7th century."
Phil Andrews from Wessex Archaeology, who oversees and supports the work of the DIO team helping to record the archaeology, said: "The aim in our final year of excavation at Avon Camp is to gain a full picture of this remarkable Anglo-Saxon cemetery and add to our understanding of rare burial enclosures we have found evidence of. Central to this is supporting the veterans to undertake the excavation and to recognise the important role they are playing in uncovering and recording the archaeology. As well as learning something new, we hope they have an enjoyable time as part of the dig team."
Roman coins, bronze and silver discs, and a necklace made of glass beads were among the incredible artifacts discovered during the previous two excavations at the 7th-century burial site, which were conducted in 2021 and 2022. These earlier digs uncovered around 26 burials in 22 graves and this final excavation has helped to add some more pieces to the puzzle.
Defence Infrastructure Organisation
Cover Photo: Crown copyright