Archaeologists in Augsburg, Germany, revealed unearthed a historical hoard including 15 kg of silver coins from the Roman Empire's era.
In a historic Roman camp in Augsburg, more than 5,500 coins from the first and second century AD were uncovered. According to the local newspaper emphasis, it comprises swords, tools, jewelry, and tableware and is the greatest Roman treasure of silver in Germany thus far.
Archaeologists in Augsburg made a Roman-era find for the second time in a few months, and experts said the more than 5,500 silver coins discovered at a disused manufacturing site were among the most important findings of this type in Germany.
The coins were found individually distributed in a construction pit in the Oberhausen district.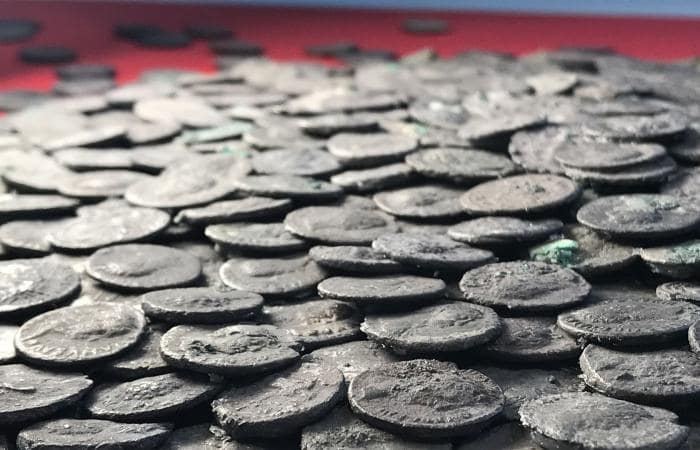 Rare silver coins discovered in Germany
The coins were discovered separately scattered in a construction trench near Oberhausen, the city's core. Around 15 BC, Emperor Augustus' stepsons built the city. A military camp that eventually became a supply depot. That is why, behind Trier, Augsburg is Germany's second-oldest city. Later, Emperor Hadrian awarded city powers to the "Augusta Vindelicum" town that had grown up around the military camp. A period in Augsburg's history about which virtually little is known.
The oldest coins date back to the reign of the Roman Emperor Nero, making them more than 1950 years old, and the wealth is worth 11 times the yearly income of a Roman soldier during this time period.
For his part, German archaeologist Sebastian Gerhaus said: "What makes this treasure particularly important is that it is dinars dating back to the first and second centuries AD, and they still contain a very large amount of silver, and weapons, tools, jewelry."
Stefan Krmnicek from the Institute for Classical Archeology at the University of Tübingen, "This amount of money must have been enormous by ancient standards. It is certainly not owned by someone who belonged to the lower social pyramid. This is most likely to think of people who were active in the military or in trade," he said.
Augsburg, a city that is richer in Roman history than almost any other in Germany. For this reason, where the found coins will be exhibited will be determined after the research.