Interesting finds unearthed during the excavations of the 2400-year-old Ancient City of Smyrna in the Aegean region of Turkey continue to create excitement.
During the excavation of the theater of the Ancient City of Smyrna, located near the Kadifekakale district of Izmir, a latrina (toilet) was found inside the backstage.
Stating that it was seen that toilets were built for the audience around the ancient theaters, but the latrina structure in Smyrna was the first to take place backstage, the head of the excavation Assoc. Dr. Akın Ersoy said that for the first time in the Mediterranean, they witnessed a place used as a toilet in a theater stage building.
The theater and the commode date back to around the second century BC, and were used until the fifth century AD, said Akin Ersoy, an archaeologist at Izmir's Katip Celebi University and head of the excavation team.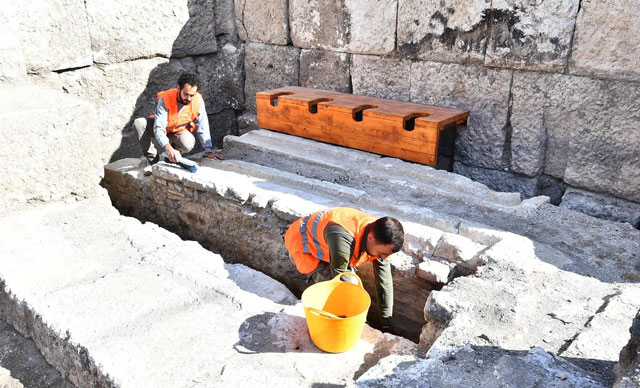 Smyrna Ancient City Excavation Head, İzmir Katip Çelebi University Turkish-Islamic Archeology Department Lecturer Assoc. Dr. Akın Ersoy, with the permission of the Ministry of Culture and Tourism, said that they came across unexpected finds during the studies carried out on behalf of İzmir Katip Çelebi University and they were excited.
Stating that they came across the latrina during the excavation, Assoc. Dr. Ersoy said, "Near the theaters we know, there are latrinas that serve the audience, but it is a first for such a place to be used as a toilet in the stage building of the theater."
The commode in the theater, around 40 centimeters (16 inches) high, has a U-shape seating arrangement and could accommodate 12-13 people at a time. Next to it is a U-shaped trough 8-10 cm (3-4 in) deep for clean water. Seating benches are mostly wooden, as in the case of Smyrna. Toilet holes are in the form of a key lock.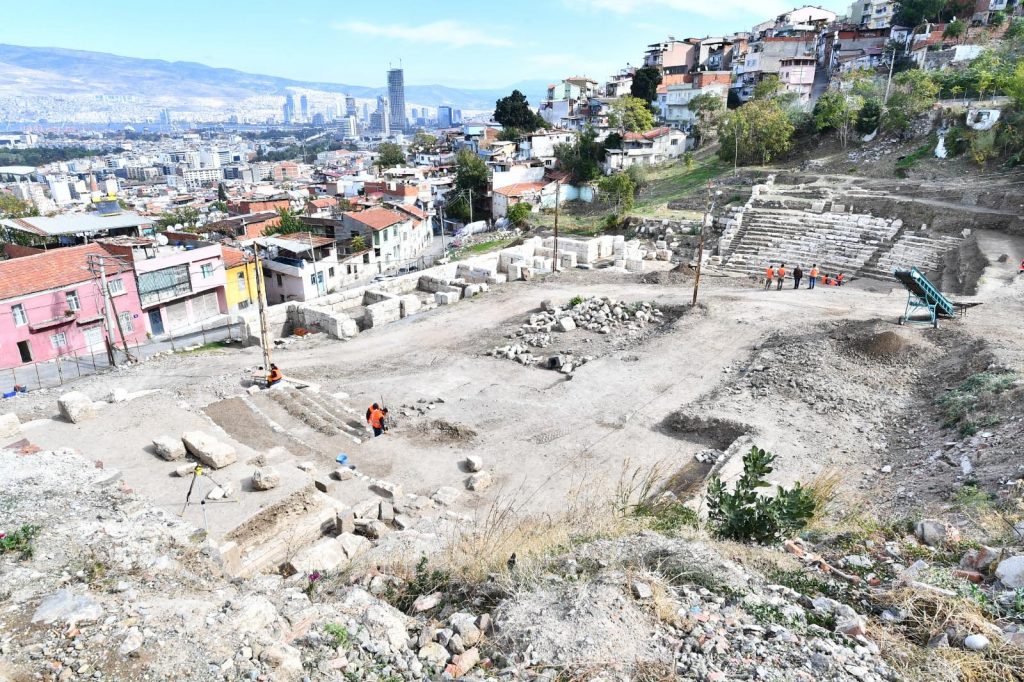 Scientists believe the toilet, located in a closed area, "was used by actors working in the stage building and performing in the theater," not by audience members, said Ersoy.
Such a find in theaters in the Mediterranean region is unprecedented, he added.
On the other hand, it has been reported that the amount of support given to the excavation since 2012 by the Izmir Metropolitan Municipality, which is the main supporter of the excavations in the ancient city of Smyrna, exceeded 12 million liras.