Unique ceramic figures were discovered in the excavations carried out this year in the ancient city of Klazomenai in the Urla district of Izmir. Among the artifacts were the 2,500-year-old a rare perirrhanterion (wash-basin) and the wash-basin foot and base decorated with chariot races.
Experts said An embossed and painted example adorned with figures in this way has never been found before.
The perirrhanterion is a special type of louterion (water-basin) used for ritual washing in sanctuaries. Although many examples of stone (marble) and ceramics were found in previous excavations, no examples of fantastic mythological creatures and chariot races belonging to the 6th century BC were found.
The antique city of Klazomenai, one of the 12 Ionian cities, is located on the island of Karantina, which also houses the Urla bone hospital. The city extends from Limantepe across Karantina island to the western outskirts of the Ayyıldız and Cankurtaran hills.
Klazomenai or Clazomenae was one of the first cities to issue silver coinage.
Excavations have been continuing since 1981 in the ancient city, where Professor Yaşar Ersoy was the head of the excavation.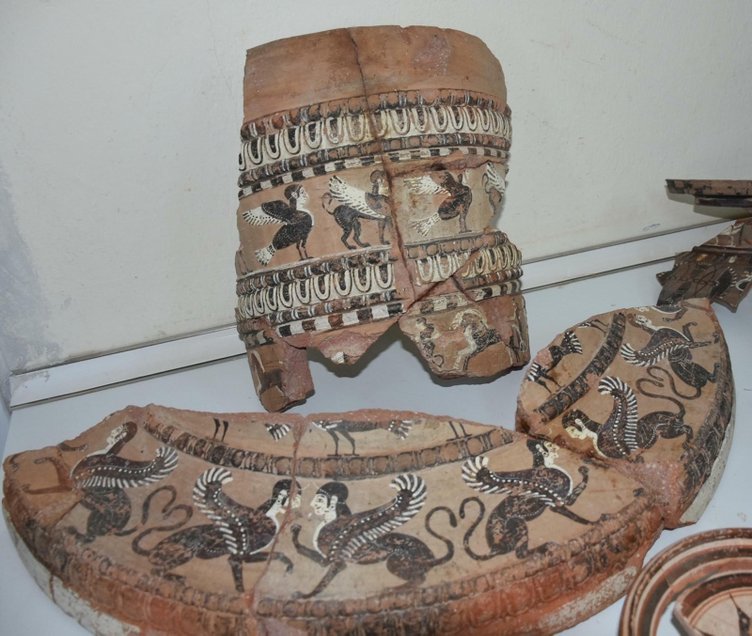 Excavation head Professor Yasar Ersoy, "This year's excavations uncovered a washbasin foot and base decorated with fantastic mythological creatures and chariot races. This artifact, which dates back to the 6th century BC, is about 2,500 years ago" he said.
"We do not know of other embossed and painted examples that have figures in this manner so far."
Klazomenai was one of the ceramic production centers of the ancient period. The most important aspect of the city was its olive oil atelier dating to the 6th century BC. It was determined that large-scale production was carried out in Klazomenai. There is a workshop with 15 pits and different functions, carved into the rock. The olive oil atelier discovered in Klazomenai demonstrates that the technology used today was developed in this region 2600 years ago. The amphorae found by these excavations had their ornaments painted on a band-line in a style special to Klazomenai and they were used for the storage and transportation of olive oil and wine, proof that the city's foreign trade was well-developed in the 6th century BC.
Klazomenai is considered to be one of the most important ceramic production centers in the region, especially in the Archaic period, in the 6th century BC. In the excavations carried out here, we also find many figured ceramics and sarcophagi produced by workshops connected with the city.
The Klazomenai ancient city was well known for its painted terra-cotta sarcophagi (6th century BC).