An Ayyanar stone idol, the first of its kind in Vellore, was discovered at Thandalai Krishnapuram (TK Puram) in Tamil Nadu, India.
A few days ago, a group of residents found a rare Ayyanar stone idol while clearing bushes in an open field to make a road in the neighborhood.
Residents reported the idol to local heritage enthusiast C. Tamilvanan, the residents were not sure whether the idol belonged to the neighborhood or was abandoned in the village.
According to numismatist, philatelist, and history buff C Tamilvanan, "the sculpture is the first of its kind to be discovered in Vellore. A person from the village who was clearing land to create a pathway using a JCB stumbled on it and as he follows me on Facebook, he informed me of the find," said.
When Tamilvanan arrived at the spot expecting to see a hero stone, he saw a sculpture of Ayyanar, the guardian god commonly found at the entrance to settlements in rural regions.
C. Tamilvanan, who examined the idol in the village, believes it dates back to the Pallava dynasty in the seventh century. However, revenue authorities stated that determining its origins would need a thorough investigation by archaeologists and local museum experts.
In the sculpture, the Ayyanar is seated on a stone throne in a special posture described in the agamas as 'Maharaja Leelasana'. He holds a weapon called 'senndu' in his right hand. In the lower part of the sculpture, a dog and a boar can also be seen.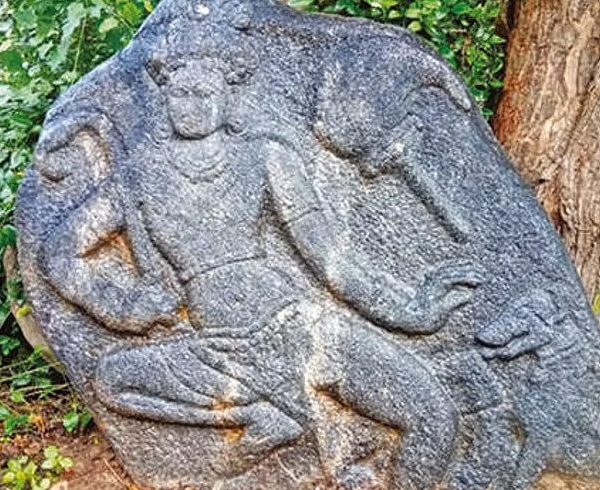 Archaeologists think that Ayyanar worship had been documented from the Sangam age to the medieval period by merchants' guilds for their prosperity and safety along with ancient trade routes.
"To the best of my knowledge this is the first time that an Ayyanar statue has been discovered in the Vellore region," Tamilvanan told DT Next.
Tamilvanan added, "the statue belongs to the late Pallava period of the 8th Century AD. Ayyanar statues and temples can be found outside villages in rural TN. Ayyanar might have originated from a former warrior or commander and over time had evolved into a guardian deity with some even worshipping him as their family deity.
Seeing the true contours of the statue, which took an hour and a half to clean, the villagers began to make poojas and said they would build a temple for it.
However, Officials said that under the Indian Treasure Trove Act 1878, anything found below one feet depth belongs to the government.
As per norms, such treasure should be handed over to the district treasury with the Collector being the sole guardian of the find. In this case, a report from the Government Museum (Vellore) would be sent to the Director of Museums (Chennai) and to the Vellore Collector on the treasure.