Archaeologists have discovered a rare clay figurine thought to represent a prehistoric water goddess in the Schweinfurt region of Germany.
Archaeologists found the clay figure in an old stream in the Schweinfurt region, on the edge of the Unkenbach plain that is now Mönchstockheim. Hallstatt-era settlers probably used this stream to draw water between the 8th and 6th centuries BC.
The Hallstatt culture derives its name from where objects characteristic of the Late Bronze Age and early Iron Age (from1100 BC) were first described in the Upper Austrian Salzkammergut region. And the term Hallstatt now refers generally to late Bronze and early Iron Age culture in central and western Europe.
The artifact is currently being studied at the Bavarian State Office for the Preservation of Monuments, where it is also gently cleaned and dried using airbrush water technology.
During the construction work of the Mönchstockheim ring road, finds such as glass fragments, pottery, tools made of bone, and a clay stamp were discovered, along with a clay figure found in a small gutter.
The ceramic finds exhibit no indication of rounded weathering due by hydraulic pressure, suggesting that they were placed in the gully on purpose as offerings. The pottery has been dated to the 8th to 6th centuries BC, which corresponds to the Hallstatt period.
The clay figurine stands at only 19cm tall. The sculpture's delicately modeled face is striking: the eye sockets, nose, lips, and chin are clearly visible. It is missing the legs and front surface of the upper body. Each side of the head has 5 perforated holes from the height of the lower chin to above the eyeline, possibly representing a hood decorated with metal rings.
Although today the figurine is 19 cm, it was probably 10 cm higher in its original form. Since the anterior surface of the upper body is missing, body shape does not provide any information about gender. Despite this, the title of the statue is attributed to women.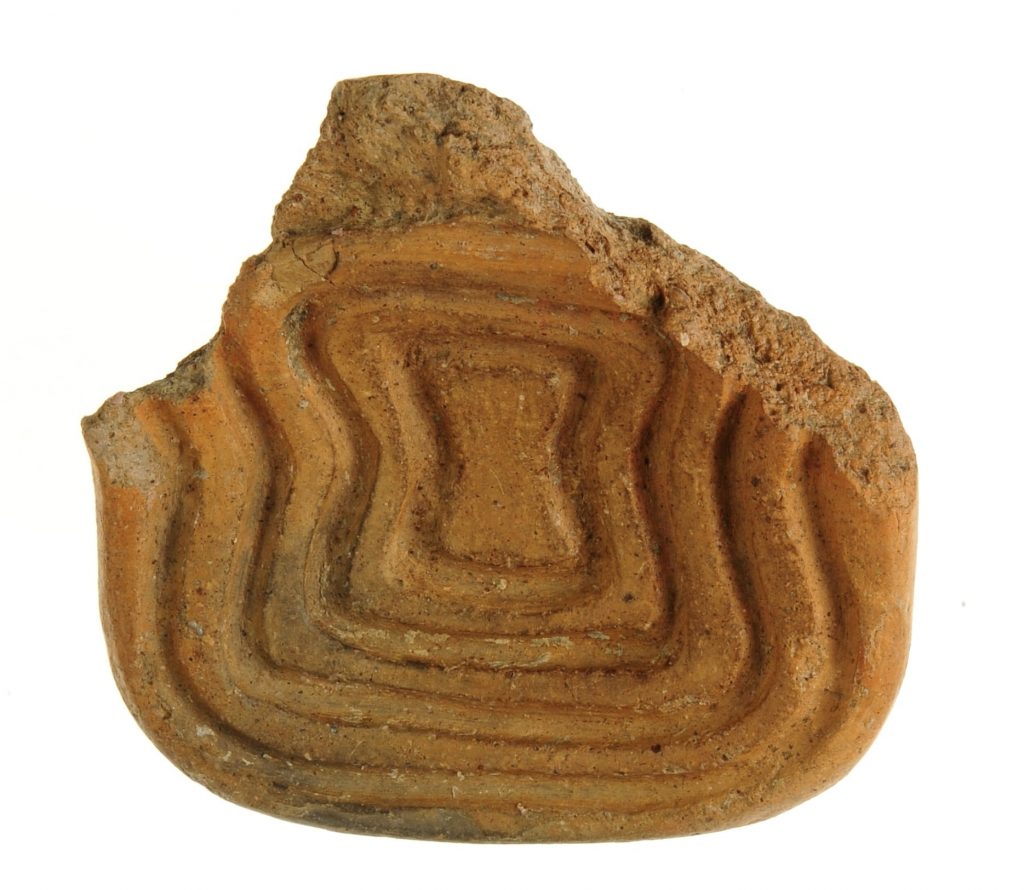 "This type of clay figurine is known, for example, from the Western Black Sea region and is dated to the 5th millennium BC. However, other finds point to a much younger dating of the figurine. All this leaves a lot of room for future interpretation," says Dr. Stefanie Berg, archaeological monument conservator in charge of the Bavarian State Department for the Protection of Monuments.
The pattern of a clay stamp from the same site is also extremely unusual. Because the printing surface is curved inward, experts assume it was used to decorate organic materials such as bread dough. Experiments with a replica by researchers at the Bavarian State Department for the Protection of Monuments also support this view.
Bavarian State Office for the Preservation of Monuments
Cover Photo: Bavarian State Office for the Preservation of Monuments