A grave with a stone coffin around 2.3 meters long and dating to the latter part of the Yayoi Period was unearthed in Saga Prefecture, northwest of Kyushu, in southwesternmost of Japan's main islands. It is the largest stone coffin grave found so far at the Yoshinogari Ruins.
It is believed the grave was created between the latter half of the second century and the mid-third century when the Yamatai state existed.
According to the Saga Province prefectural government announcement, the discovered sarcophagus has four stone lids and a maximum length of 2.3 meters, and a width of 0.65 meters.
The grave measures about 3.2 meters. It is around 1.5 times the diameter of a typical grave pit for stone coffin graves that have previously been unearthed at the site.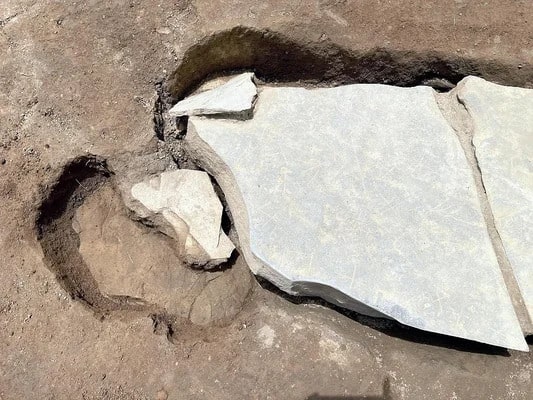 The surface markings, which are thought to have been etched with sharp metal tools, closely resemble an "x" or the Japanese katakana symbol for "ki." These shapes are thought to have the ability to protect a buried person from evil.
The governor's office believes an influential person was buried there because it is located on top of a hill with a magnificent view.
The prefectural government plans to open the coffin on June 5.
The largest ruin among all the Yayoi ruins excavated in Japan, Yoshinogari spreads throughout the Kanzaki area of Saga Prefecture (Kanzaki town, Mitagawa town, and Higashisefuri village).
The Yayoi period was a long era spanning approximately 700 years. In the late Yayoi period, Yoshinogari developed into the largest moated village in the country, encircled by a large outer moat dug down in a "V" shape.
The village also came to feature two special inner areas (the "Northern Inner Enclosure" and the "Southern Inner Enclosure"). Particularly in the Northern Inner Enclosure, large buildings appeared as Yoshinogari entered its golden age.