During the restoration of the Porta dei Cornacchini and the marble cladding of the northern side of Florence's Duomo, extensive traces of color were revealed on the Virgin with Child and Adoring Angels group of marble sculptures.
The restoration, which began in September 2021, confirmed that the sculptures were originally multicolored.
The sculptures, dating from 1359-1360, are displayed in an arched niche above the Porta dei Cornacchini, a door in the cathedral's north wall. While the marble in the background is colorful — the Duomo is known for its white, pink, and green marble cladding, which gives the cathedral its distinct appearance — the sculptures themselves were previously thought to have been left in their natural white marble.
This is the first time, Opera di Santa Maria del Fiore noted, that such extensive traces of colors have been found on sculptures adorning the exteriors of the Florence Duomo. Since restoration work began, experts have cleaned more than 10,000 square feet of marble.
This process revealed numerous traces of paint, including the brown iris of Mary's left eye, the teal of her cloak, the red on the outside of her cloak, and the rich brocade pattern on the gown worn by the Christ Child. This is the first time that such large sections of polychrome paint have been found on the exterior sculpture of a cathedral. Previous discoveries were only tiny glimpses – some gilding and light blue stains on other sculptures.
The find has led to the image of the Duomo as one in color, with white, green, and pink on the exteriors and red and gold mosaics on the facade.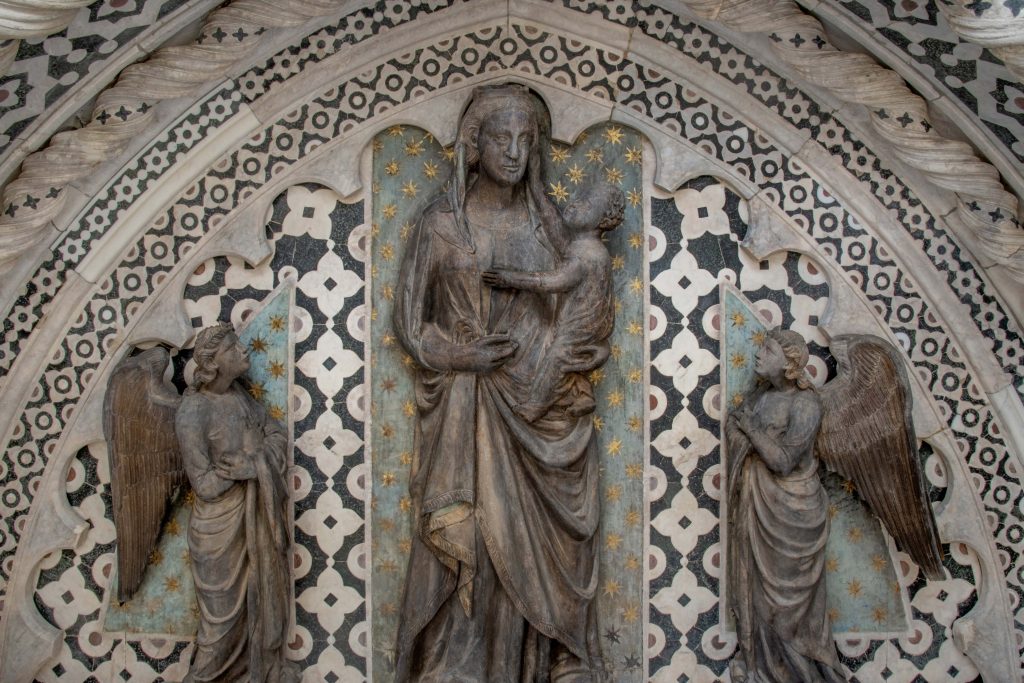 "The exciting find of multiple colors of the figures on Porta dei Cornacchini of the Florence cathedral," said Duomo museum director Timothy Verdon. "It reminds us that Florence at the end of the 14th century and beginning of the 15th was a very colourful city. The cathedral also had painted statues with gilding on the wings of angels and on clothing – thus, a celebration. A celebration that we forgot and are beginning to rediscover." In the eyes of the cardinal and bishop of Florence, Giuseppe Betori, "it can seem strange that so much importance has been given to the door of a church. But, in reality. the door of a church is very important since it is the connection between what is celebrated inside the building and the normal life of people."
The restoration is made possible by the Opera di Santa Maria del Fiore with the fundamental contribution of the CR Firenze Foundation and under the high supervision of the Superintendency of Archaeology, Fine Arts, and Landscape for the metropolitan city of Florence and the provinces of Pistoia and Prato.