Romanesque means "from the Romans", "descendant of the Romans". This architectural style is called "Norman architectural style" in England and "Romanesque architecture" in Europe.
The Romanesque architectural style is a building style that was widely used in Ireland in the 12th century. It superseded an older and much plainer indigenous Irish church-building type, of which few unaltered remains survive. It was distinguished by flashy entrances and ornate sculptures.
The ostentatious Romanesque structures took the place of the churches, which were probably wooden and had a very simple structure.
The pan-European architectural style of the 11th century was Romanesque. It was more than just a building technique; it was an ideological movement. After a time known as the Dark Ages in Europe, the 11th-century renaissance of academia and art harkened back to the notion of the antique Christian culture, with all of the Romans' construction and engineering talents.
This was a time when individuals from all across Europe, particularly clergy, traveled to important pilgrimage sites such as Compostela or Rome, which served to propagate ideas among the Christian world. By the mid-1000s, the Romanesque style had established itself in Europe and flourished until it was progressively replaced by Gothic beginning in the mid-12th century.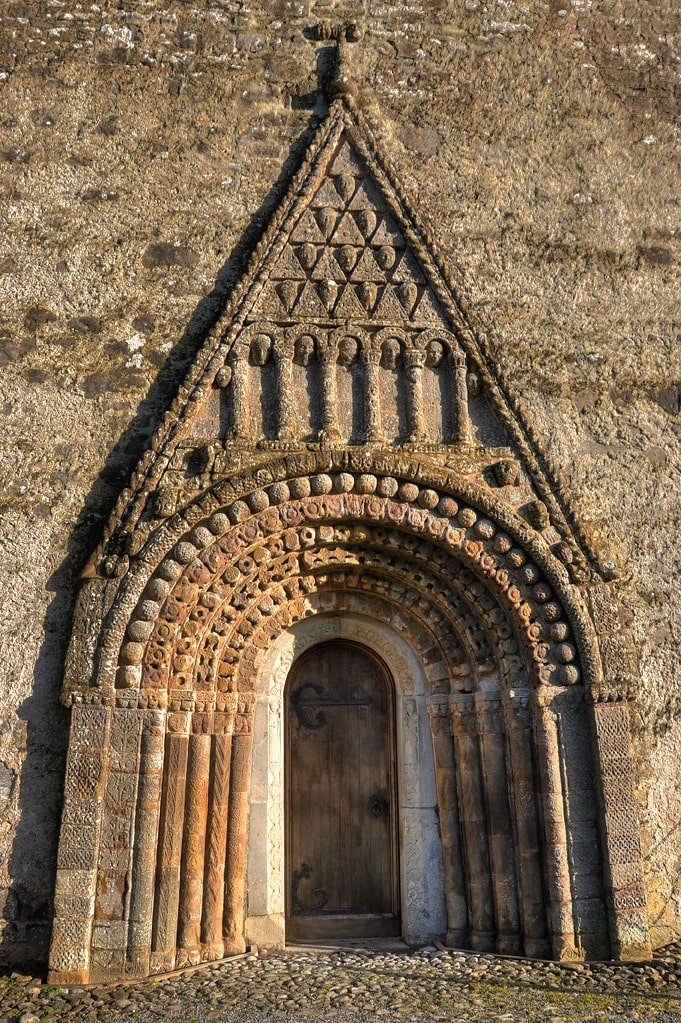 Timahoe its famous 12th century round tower
The most exquisite round tower in Ireland is distinguished by an amazing carved doorway. Carvings of human heads with flowing beards and mustaches adorn the main entryway, which rises over five meters above the ground. A second-story window is adorned with smaller sculptures. Nobody knows why the Timahoe monks carved such a lovely entryway.
They might have utilized it to show a sacred relic to pilgrims, or the beautiful ornamentation could have been inspired by the monastic structures that once stood on this location.
The round tower was erected in the 12th century on the site of a monastic community founded approximately 600 by St. Mochua. The tower is about 30 meters tall and more than 20 meters broad at its base. The tower made it simple for visitors to locate the monastery.
Bells were rung to summon the monks to prayer and to warn them when the monastery was under assault. When the alarm went off, the monks would gather all of the monastery's riches and climb into the tower. The huge stone walls kept them secure once they had drawn up the outside ladder and bolted the door.
The tower stands in setting across a footbridge that crosses the Timahoe River.
Source: Timahoe Heritage Centre
Cover Photo: Sculpture by Michael Burke at Timahoe Heritage Centre. Photo: Alf Harvey.