Archaeologists have discovered a burial chamber in Ostrowite, in Poland's Pomeranian Voivodeship, containing several high-status grave goods from the 11th to 12th centuries.
Researchers from the University of Lodz's Institute of Archaeology found several burials and bronze bowls fragments during prior archaeological investigations in the area.
In the latest excavation, the team found the burial of a man from the 11th to 12th century AD, buried in a wooden structure that resembles a large chest or a small house.
Dr. Jerzy Sikora from the Institute of Archaeology of the University of Lodz commented: "The deceased was most likely a representative of the local Pomeranian elite. Ostrowite was an important but local center of power that functioned from the 11th to the 14th centuries. It was a fairly extensive settlement complex with a settlement on a nearby island, which was connected to the shore by a wooden bridge."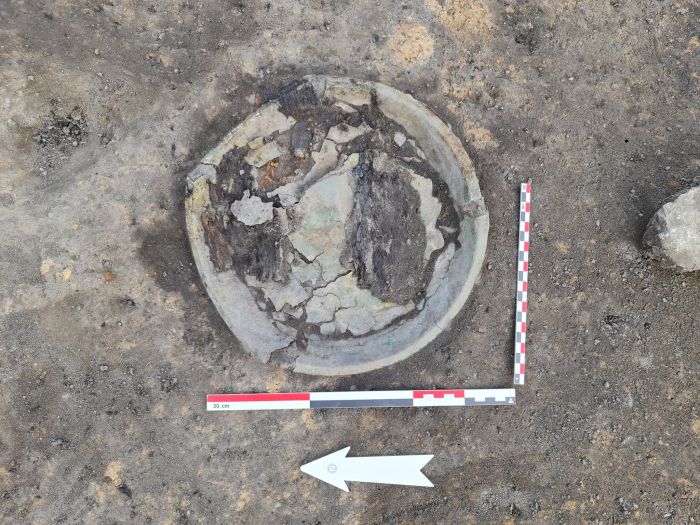 The form of burial is compatible with chambered burials often associated with high-status persons during the early medieval era, with the east-west axis of the body suggesting he was a Christian. The fact that the deceased was not cremated supports this view.
Within the burial, archaeologists uncovered two amber rings, a large bronze bowl, and an iron knife in a leather sheath with bronze fittings.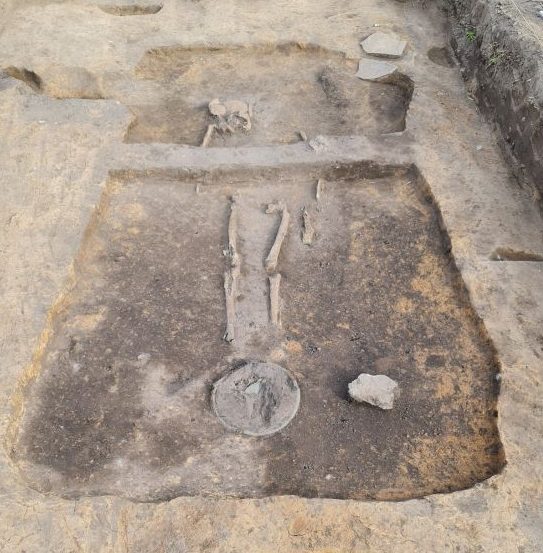 The amber rings were symmetrically arranged in relation to the body axis, whilst between the legs of the deceased was a bronze bowl containing pieces of wood (most likely the remains of the ceiling from the wooden structure).
On the surface of the bowl and knife sheath, archaeologists identified fragments of fabrics or their imprints, whilst beneath the bowl were small fragments of leather that are most likely the remains of /the deceased's footwear.
As explained by Dr. Sikora, the tomb discovered did not surprise archaeologists. In Pomerania, there were known distinguished tombs dating from the 11th and 12th centuries, which have been unearthed along with chamber tombs and weapons. Similar burials are known from Usadel and Uznamia in Mecklenburg in contemporary Germany or Cedynia in Poland.