A study of pigments used in murals in the Cueva Ardales caves in southern Spain has revealed that Neanderthals, long perceived as simple and savage, actually painted stalagmites in this Spanish cave more than 60,000 years ago.
The research "Symbolic role of the underworld among Middle Paleolithic Neanderthals" published in PNAS (Proceedings of the National Academy of Sciences of the United States of America) was conducted by Àfrica Pitarch Martí and her colleagues at Collaborative Research Center 806.
Since the release of a 2018 study attributing red ocher pigment discovered on the stalagmitic dome of Cueva de Ardales to our extinct "cousin" species, the topic had been roiled the paleoarchaeology community.
The dating suggested that this art has at least 64,800 years of history and was made when modern humans did not inhabit the European continent.
The composition and location of the pigments were found to be inconsistent with natural processes, according to new analysis.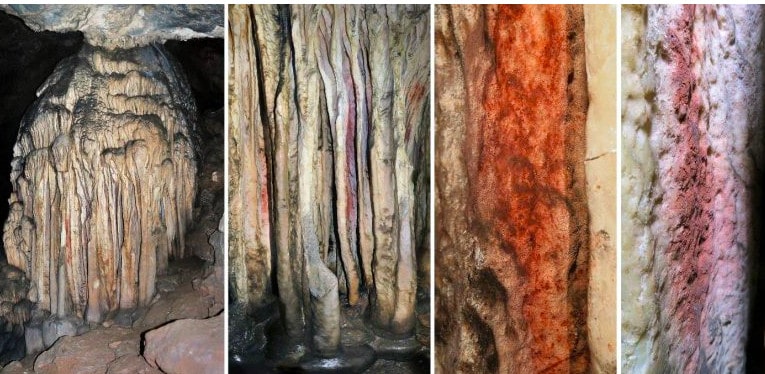 The pillar's edges are covered with a slew of thin sinter plumes. Red paint spots, dots, and lines were placed in 45 different places on these sinter curtains. The goal was to determine the composition and potential origin of pigments. The results indicated that the pigment composition and arrangement could not be attributable to natural processes, but that they were applied by spraying and, in some cases, blowing.
The researchers discovered that the composition of the pigments did not match natural samples obtained from the cave's floor and walls, suggesting that the pigments were brought in from outside.
More detailed dating revealed that the pigments were applied at various times, separated by almost 10 thousand years. The pigment was applied, the first time more than 65,000 years ago and the second time between 45,300 and 48,700 years ago, during the period of Neanderthal habitation.
It's impossible to compare Neanderthal "art" to ancient contemporary human wall paintings, such as those discovered in France's Chauvet-Pont d'Arc cave more than 30,000 years ago. The latest discovery, however, adds to mounting evidence that Neanderthals, whose lineage died out approximately 40,000 years ago, were not the boorish cousins of Homo sapiens that they had long been depicted to be.
The team wrote these are not art in the strict sense "but rather the result of graphic behaviors intent on perpetuating the symbolic significance of a space."
The cave formations "played a crucial role in the symbolic systems of some Neanderthal societies," albeit the meaning of those symbols is still unknown.