Archaeological excavations carried out on a peninsula in the middle of Istanbul Küçükçekmece Lake unearthed a very important 4,000-year-old trade port and cultural layer.
The Bathonea excavations, led by Şengül Aydıngün, yield data that will shed light on the history of Istanbul.
Stating that Istanbul was discovered by the Ancient Greeks around 680 BC, Assoc. Dr. Şengül Aydıngün said that the Bathonea excavation area was started to be used at that time and that the Byzantium City State founded by Byzantium could be defined as a port settlement.
We Reached the Cultural Layer 
Aydıngün said, "Approximately 20-25 cm. We observed sea sand and soil formation on it. After the sea receded, agricultural land was formed. After the formation of the B two layers, people come and start building the first structures. One of these structures is an early Christian church of 3 naves. It was demolished and built several times, and eventually, It was completely abandoned by an earthquake in the 11th century. Here we have identified earthquakes in the 6th and 11th centuries.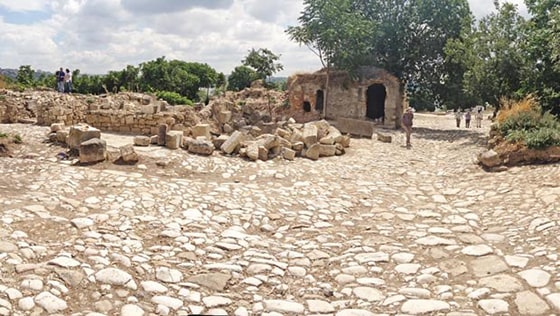 We identified a very important cultural layer for Istanbul in this region where there are also middle bronze age materials. Because; "A layer belonging to the year 2000 BC. has not been recorded in Istanbul until today," she said.
Tin puts the region in a strategic position
We think it is a very important trade center. A trading place dating back 3,500 / 4,000 years from today… We think the tin mine has arrived. Saying that tin, which is a very important mine for bronze making, puts the region in a strategic position, archaeologist Dr. Haldun Aydıngün said: "When we look at the wall system that has been unearthed, it is seen that it does not belong to a house or a temple. I think we're digging warehouses here. We also found plenty of tin material at the bottom of the warehouse. The materials found were stored in Bathonea port while passing through the middle of an intercontinental trade area, but could not be carried to the customer, stayed here.
The professor who participated in the excavations from Poland Wroclaw University. Dr. Blazej Stanislawski said: "The port encountered was probably the largest and most important port of the Byzantine capital. It is very interesting that it is a large harbor within the walls. We also know that from the 9th century until the 11th century, there was a very important trade route extending from the Russian Region in Eastern Europe to the Black Sea and Constantinople before the Baltic Sea region.