A very well-preserved 4,400-year-old Shaman Snake Staff made of wood has been found in Finland. The "Snake Staff" found is thought to have been used in shamanic rituals.
The staff is 21 inches long, about an inch thick at its widest point, and appears to be a snake-like head with its mouth open.
It was discovered completely preserved in a buried layer of peat in the town of Järvensuo, some 75 miles northwest of Helsinki, at a prehistoric wetland site that scientists believe was occupied by Neolithic (late Stone Age) peoples 4,000 to 6,000 years ago.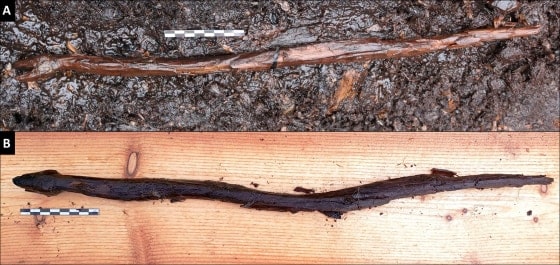 It's unlike anything else ever discovered in Finland, albeit a few stylized snake sculptures have been discovered at Neolithic archaeological sites in the eastern Baltic region and Russia.
"They don't resemble a real snake, like this one," University of Turku archaeologist Satu Koivisto said in an email. "My colleague found it in one of our trenches last summer. … I thought she was joking, but when I saw the snake's head it gave me the shivers."
"Personally I do not like living snakes, but after this discovery I have started to like them," she added.
Koivisto and her colleague Antti Lahelma, an archaeologist at the University of Helsinki, are co-authors of the study on the wooden snake, which was published in the journal Antiquity.
Source:  nbcnews
Cover Photo: Satu Koivisto