According to the Shaanxi Provincial Archaeological Institute, more than 4,600 ancient cultural remains were discovered during the expansion project of Xianyang International Airport in Xi'an, including more than 3,500 ancient tombs.
Even during the spring festival break, hundreds of workers worked to excavate the area and ensure that the third stage of the airport proceeded smoothly.
The third phase expansion of the Xianyang airport in Xi'an, the capital of Shaanxi Province, is currently known as the largest civil aviation project in northwest China, as part of efforts to build an international aviation center in Xi'an.
The cultural heritage bureau of Shaanxi, "The number and scale of the relics is huge and the workload of archaeological excavation is enormous", said.
Throughout its history, the city of Xian was home to 13 dynasties and remained the capital of ancient China for a total of 1,100 years. Since it became a transportation hub and experienced an infrastructure boom, scientists have made numerous archaeological discoveries.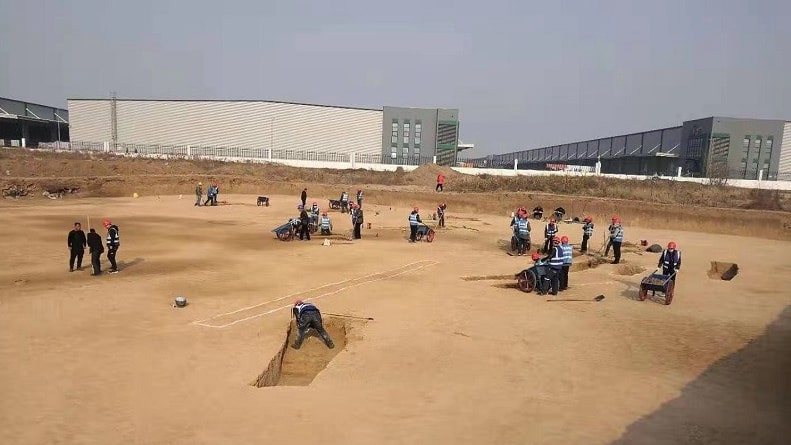 In 2001, scientists discovered the tomb of Princess Li Chi of the Tang Dynasty (618-907 AD). A year later, researchers unearthed the tomb of Zhang Tang, the highest judicial official in the Han and Tang Dynasties (206 BC-220 AD).
"In Xian, before any construction project starts, or before the government sells a certain parcel of land, an archaeological survey is carried out. This is rare in China", said Wang Zili, deputy director of the Xian Institute for the Preservation of Cultural Heritage.
In fact, it's no surprise to discover the ancient tombs in Shaanxi. Xi'an is also known as the city where the silk road started. It is a city that has been the capital of China's famous Terracotta army and Qin Shi Huang, who is accepted as the first emperor of China.
What is the Terracotta Army?
The world-famous Terracotta Warriors and Horses of Qin Shi Huang are a group of sculptures depicting soldiers of Qin Shi Huang, the first emperor of China. According to mythology, the army protects the emperor in the afterlife. The history of these sculptures can be traced back to around the third century BC.