2,500-year-old fortification walls were found in the Ancient City of Pergamon (Bergama), which was included in the World Heritage List by UNESCO in 2014.
Excavations were carried out in the ancient city of Pergamon, which is located 26 kilometers (16 miles) from the present coastline of the Aegean Sea and northwest of the Bergama district in Izmir province, have discovered new fortification walls to light.
Stone walls were reached within the scope of the restoration, cleaning, and research work carried out by the General Directorate of State Hydraulic Works (DSI) in the Selinos Stream surrounding the ancient city of Bergama.
In the examination made by the experts of the Pergamon Museum Directorate, it was determined that the fortification walls, which are approximately 4-5 meters high, were built in the 5th century BC to protect the city against attacks.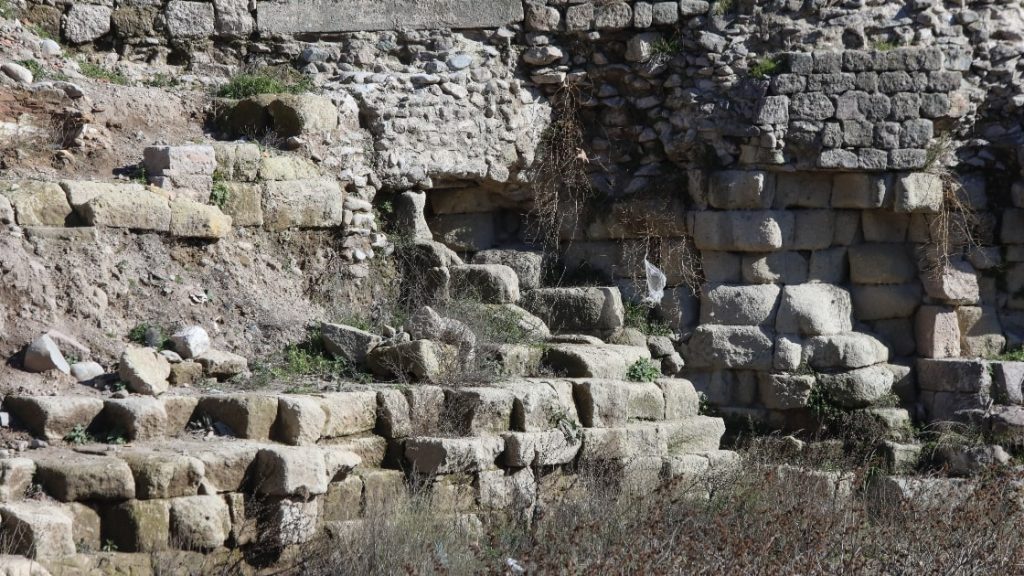 Sociological and economic power sign
Pergamon Museum Director Nilgün Ustura told Anadolu Agency that the work carried out in and around the Ancient City of Pergamon wins new discoveries to the world of archeology every year.
Noting that the Selinos Ancient Canal Project was carried out in the river on the outskirts of the ancient city with the cooperation of official institutions, Ustura said that new finds were obtained on the 1.5-kilometer line.
Stating that the fortification walls, which date back to the 5th century BC, were built with the "polygonal" system reflecting the characteristics of the period, Ustura said:
"The Ancient Selinos Canal Restoration Project is a very long-term work. This project, which started on February 5, 2021, provides us with valuable archaeological data. This brings along very important historical inferences."
"We have determined that the fortification walls, which we think were built in the 2nd century BC, belong to an earlier period. While we were talking about 4 kilometers long fortification walls in the 2nd century BC, we now see polygonal-type walls dating back to the 5th century BC. We guess that these walls descended to the Ancient Selinos River and were built for defensive purposes."
Noting that the expert teams of the Pergamon Museum continue their work in the field, Ustura stated that the city walls are the product of qualified architectural work in the early period.
Pointing out that the walls ensure the security of the city, Ustura said, "The walls we have reached show sociological and economic power. The stronger you make the walls, the stronger the city will be."
The remains of the Pergamon ancient city were first discovered in the 1870s by German engineer Carl Humann.
The ancient city featured an amphitheater that could seat 50,000 people and a theater for 30,000 people, the second largest library in the ancient world as well as the first hospital. Besides, it was home to many civilizations throughout history.