In the Pausilypon Archaeological Park, archaeologists from the University of Naples' "L'Orientale" uncovered an ancient mosaic.
The park is located in Posillipo, which was an elite quarter of Naples in modern-day Italy during the Roman period. The park is accessible via the 770-meter-long "Grotta Seiano" tunnel, which was excavated during the Roman period. This park consists of ancient structures that face the sea but actually extend far below the sea's surface. In fact, the Pausilypon Archaeological-Environmental Park shares boundaries with the Gaiola Sunken Park.
Pausilypo ("Pausilypon" in ancient Greek means "relieving from pain") was a luxurious zone where the most famous people of the ancient Roman world, such as senators and wealthy cavaliers, had their extravagant villas.
The main attraction of the park is the villa of Publius Vedius Pollio, Emperor Augustus' right hand, which was built in the first century B.C. This wealthy Roman cavalier was born into a freed slave family but was best known for his exploits with his own slaves. He became infamous for his luxurious tastes and cruelty to his slaves – when they displeased him, he supposedly had them fed to lampreys in an eel pond. In addition to his villa, he built a theater that could seat 2000 people, an Odeon for small shows, a Nymphaeum, and a spa complex.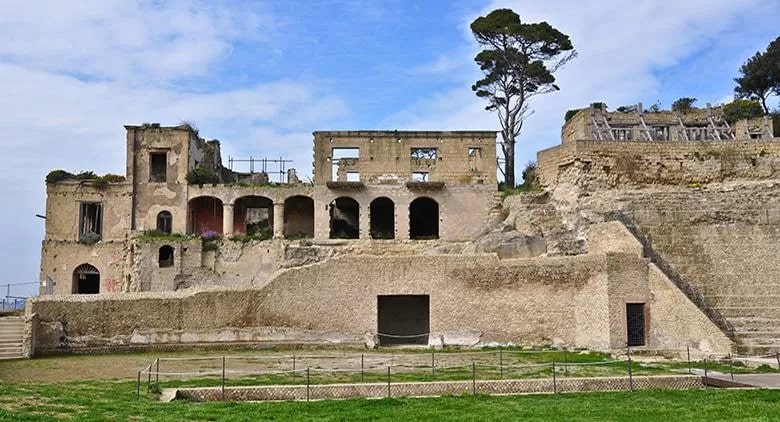 When Publius Vedius Pollio's slave broke a crystal cup, he sentenced him to death and insisted that he be thrown into a pool of moray eels. Emperor Augustus, a close friend of Pollio, told the self-made gagillionaire to spare the slave's life. Augustus then ordered all Pollio's expensive drinking vessels smashed and his pool filled in.
Pollio left his estate to Augustus after his death in 15 BC, along with instructions to erect a suitable monument on the site. Up until the time of Hadrian, who passed away in AD 138, the villa was owned by the empire and passed from one emperor to the next.
A mosaic floor from the villa's initial construction phase has been discovered by archaeologists from the University of Naples "L'Orientale." The mosaic, which is composed of tiny white tesserae with a double black frame, was discovered purposefully buried beneath renovation projects that Augustus had ordered following Vedius's passing.
Stratigraphic dating is still missing, but based on the style that hall could date back to the late Republican age or Augustan at the latest", says Marco Giglio, of the L'Orientale University of Naples, who led the excavation brought to light.
A refined white mosaic carpet with a double black frame delimits the living room overlooking the sea of Naples.
University of Naples "L'Orientale"
Cover Photo: University of Naples "L'Orientale"