Archaeologists have unearthed a mysterious stone circle at the center of a prehistoric ritual site near Bodmin in Cornwall, located in England.
The stone circle has been found inside Castilly Henge, near Bodmin, by Historic England (HE) and the Cornwall Archaeology Unit.
The site location lies near the source of the Luxulyan River, on the peak of Castle Hill, a relatively minor hill within Innis Downs.
The Castilly Henge was constructed around 3,000 to 2500 BC, defined by an external bank and internal ditch that formed an amphitheater-style setting. The bank has been partially cut by a hedge, and the ditch is largely preserved as a buried feature.
During the medieval period, the henge was repurposed as a "playing place", an early form of outdoor theatre used for plays and various social, religious, and political events.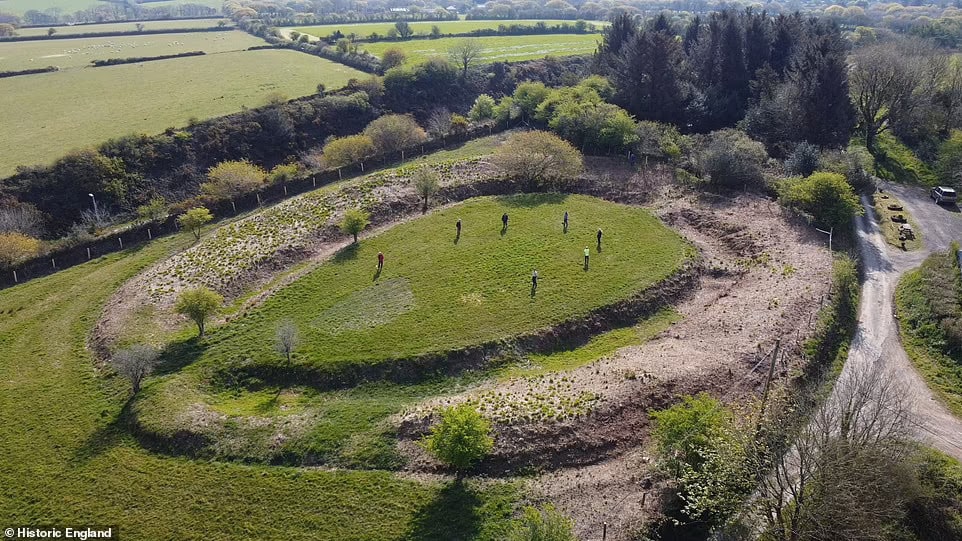 The henge was cleared of vegetation that threatened the underlying features, enabling the researchers to apply detailed topographic and geophysical surveys.
Castilly Henge has well-preserved earthworks and survives as an oval enclosure measuring 223ft (68m) long by 203ft (62m) wide, with a level interior measuring 157ft (48m) long by 91ft (28m) wide.
The surrounding ditch is 24ft (7.6m) wide and 5.9ft (1.8m) deep, with an outer bank up to 5.2ft (1.6m) high.
The site has now been fenced, allowing it to be grazed by animals without damaging the structure, it added.
The henge is one of 40 scheduled monuments protected by the Cornwall Area of Outstanding Natural Beauty.
Ann Preston-Jones, from Historic England, said the research "has given us a deeper understanding of the complexity of this site and its importance to Cornish history over thousands of years".
Senior archaeologist Peter Dudley said 13 people gave 111 hours of their time "and now the monument is looking so much better".
Historic England said no further work was planned on the site, but its research was to be published in a report later this year.