Agrigentum Tyranny today is in the provincial borders of Agrigento in the Sicily Autonomous Region in the southwest of Sicily.
Phalaris (570-549 BC) is the most famous tyrant of the city of Agrigentum. It strengthened its army with mercenaries and expanded it was bordered to include the city of Himera.
It is thought that he made the construction plans of the city and that he constructed the most spectacular city of his time. It is said that the tyrants who came after him follow his path.
Perilaus (Perillos), an Athenian brass casting and palace sculptor bring his new work to Phalaris in to show it.
This is a shiny brass replica of a bull, but much more than just an ordinary statue ..! This hollow bull, made without a face, has a cover on its side. The victim being placed inside this bull and scorched with the heat of the metal until the bull turned red from the burning fire below. In the head of the bull, various pipes designed by Perilaus (Perillos) and some complex tools such as whistles were placed. Thanks to these instruments, the voice of the victim turned into a voice resembling the bellowing of an angry bull.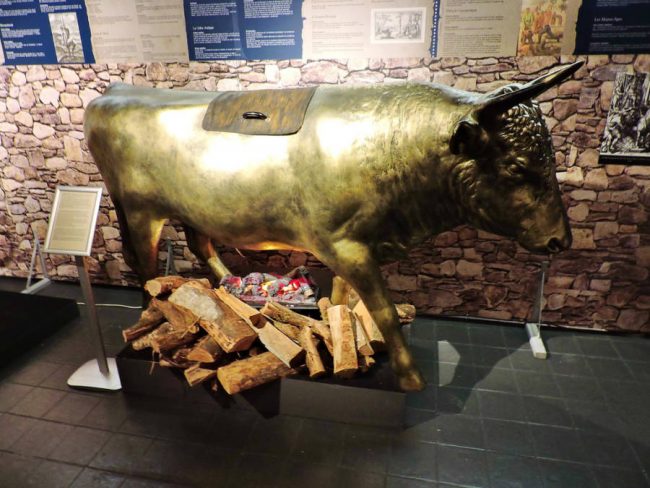 The historian Diodorus Siculus wrote that Perilaus said:
"O Phalaris, if you want to punish a man, close him between the bull and light a fire under him, his moans will be thought of the bull's bellowing, and his cries of pain will give you pleasure as he passes through the pipes in his nostrils. "
Phalaris must have been very impressed by this narrative of the sculptor, and asks him to show this sound system. When the Perilaus enters the bull, it closes the lid and lights the fire. Thus, he learned the sound system of the invention from its real master.
Fortunately, the great tyrant gets Perilaus out of the bull before he dies. He throws Perilaus, who thinks he will probably get a reward, its jump off the cliff.
Although the number of people Tiran Phalaris killed with this bull is not recorded in historical records, it is obvious that the same invention was very popular in the Roman period.
According to rumors, Phalaris, whose crown was taken away by Telemachus, died by burning in this bull that he ordered.
Herodotus mentions that in ancient Greece, to be fried inside a bull was a well-known torture method. It is understood that torture is used as a form of execution rather than questioning within.
In Christian legends, people who were killed in this way are mentioned.