At the European Museum of the Year Awards (EMYA) online ceremony on May 6, Turkey's renowned Troy Museum and Odunpazar Modern Museum (OMM) received special commendation awards. Candidates from 2020 and 2021 were awarded awards at the ceremony, which was organized by the European Museum Forum and sponsored by the Yeltsin Center in Russia.
The EMYA, also known as the Oscars of museums, is one of the world's longest-running and most prestigious museology award ceremonies. While the Troy Museum in çanakkale Province received the EMYA 2020 special commendation award, the OMM, which is constructed among historic houses in the Odunpazarı district of the central Turkish city of Eskişehir, received the EMYA 2021 special commendation award.
Troy Museum 
The Troy Museum, which is the winner of the 2020 European Museum of the Year award, includes 7 cultures under the title of Troas Region Archeology, Bronze Age of Troy, The Epic of the Iliad, and the Trojan War, Troas and Ilion.
The Troy Museum is a museum that contains Turkey's multi-layered historical assets located in the village of Tevfikiye, in the Ezine district of Çanakkale province, approximately 800 meters east of the archaeological site of the city of Troy.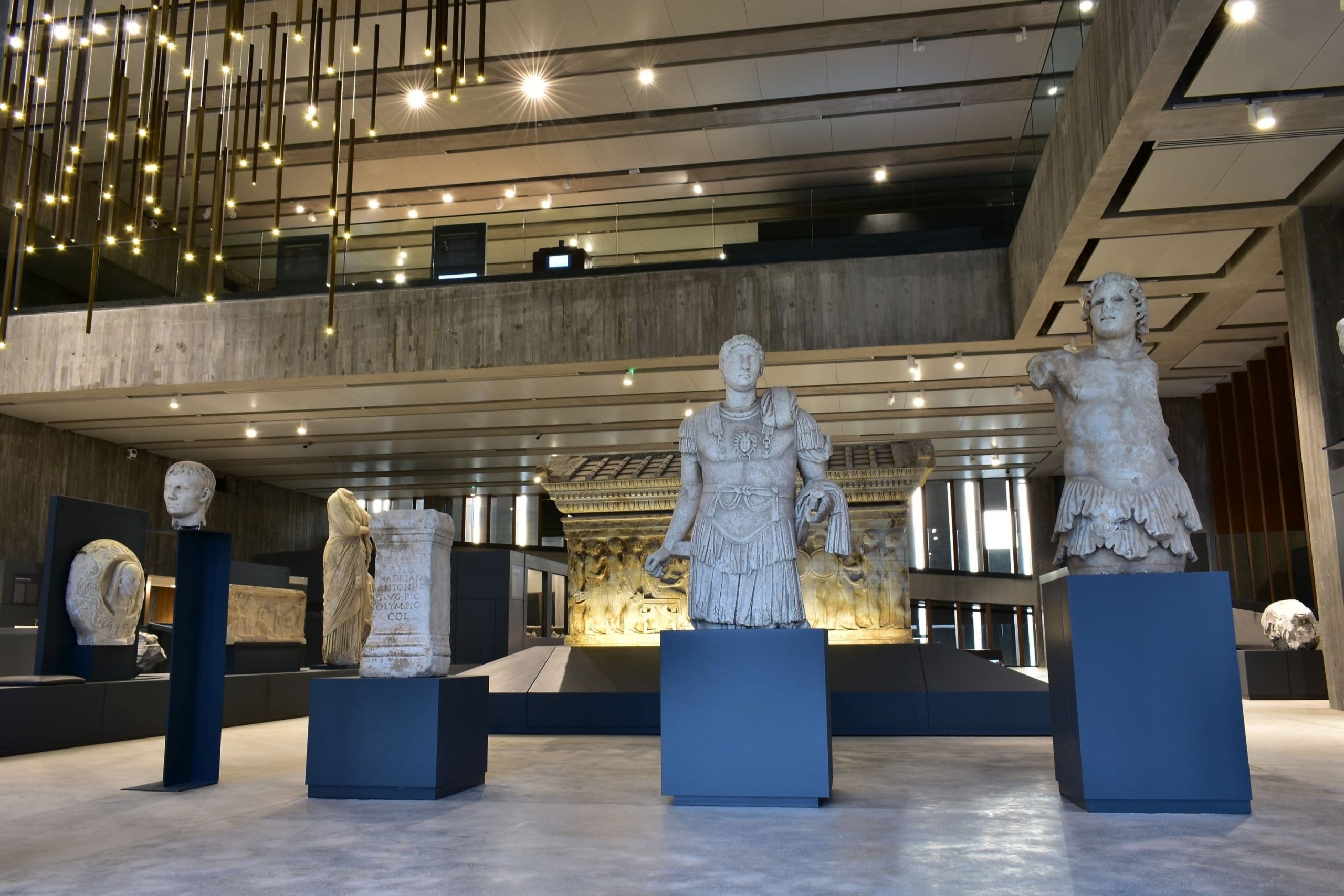 Yalın Architecture, which won the design competition for the Troy Museum building in 2011, completed the construction in 2017, which started in 2013.
Yalın Architecture designed the museum building design in a contemporary simple architectural style. The four-story cube-shaped building in a square plan is covered with weather-resistant steel.
The museum was opened on October 10, 2018, in the "Year of Troy".
The Troy Museum consists of three floors. Visitors reach each exhibition floor using ramps. The total length of the ramp to the exhibition areas is approximately 480 meters.
Visitors follow a story divided into seven titles as they visit the museum: Archeology of the Troas Region, Bronze Age of Troy, The Epic of the Iliad and the Trojan War, Troas and Ilion in the Ancient Period, the Eastern Roman and Ottoman Period, the Archeology History, the Traces of Troy.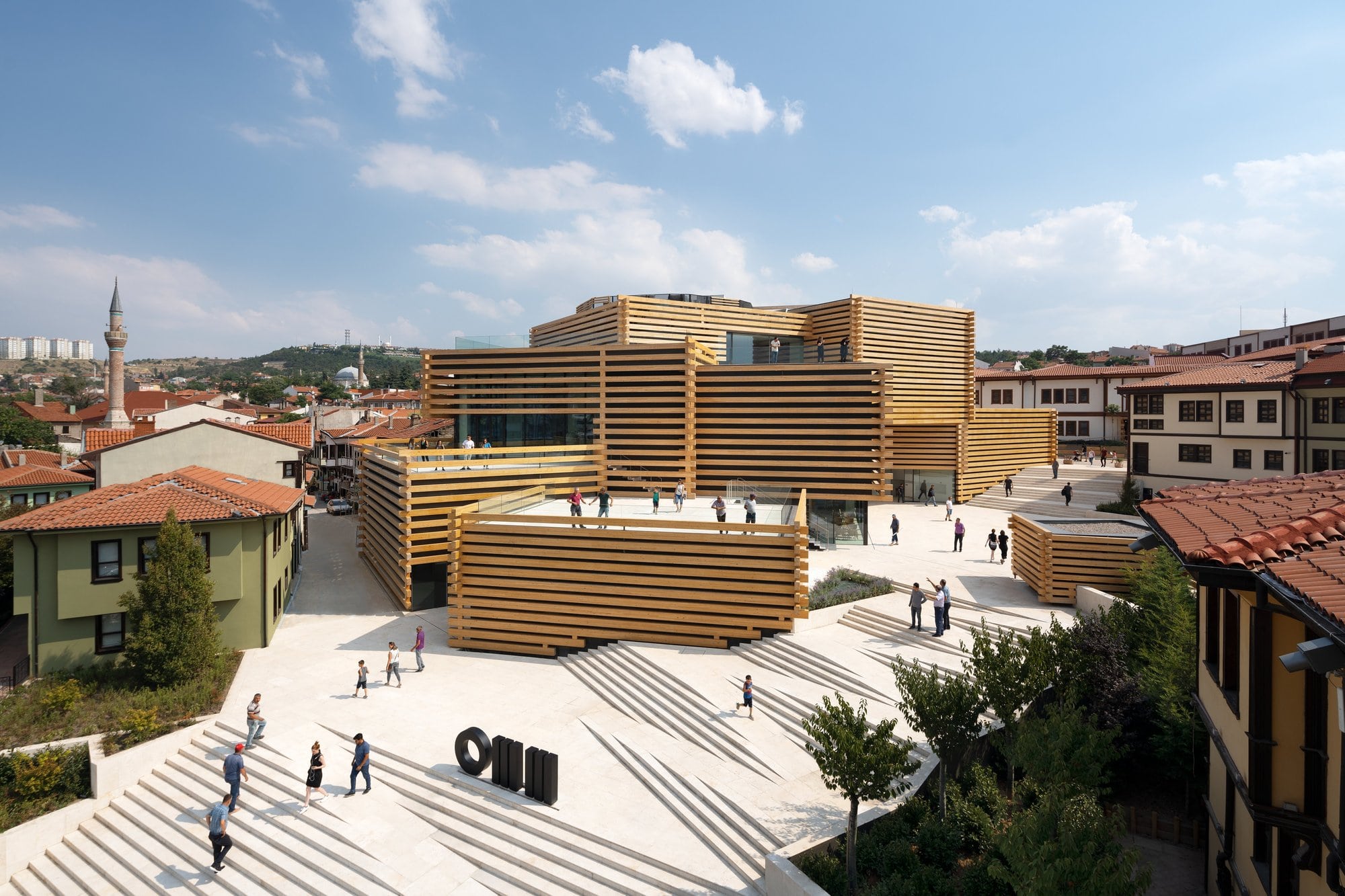 Odunpazarı Modern Museum (OMM)
The Odunpazarı Modern Museum (OMM), designed by Kengo Kuma and Associates in Eskişehir, in the northwest of Turkey, opened its doors to art lovers in 2019.
The museum in the Odunpazari district of Eskisehir was built to house the contemporary art collection of architect and chairperson of Turkish contractor Polimeks, Erol Tabanca. It is made up of a cluster of boxes made of stacked, interlocking timber beams.
Odunpazari, which translates to "firewood market" in Turkish, was once a center for timber trade, and Kengo Kuma and Associates based their concept on this tradition.
The building consists of a group of square-shaped blocks that are surrounded by laminated-timber beams stacked on top of each other. These have been arranged to continue the streetscape of the surrounding Ottoman houses.
We congratulate both museums for their great achievements.