A relief depicting a fifth-century BC battle between the Greeks and Persians was discovered in the ancient city of Dascylium in the Bandırma district of Balikesir, northwest Turkey.
Archeological excavations at the ancient city of Daskyleion, which has evidence of numerous Anatolian civilizations, continue under the direction of Professor Kaan İren, Faculty Member of Muğla Sıtkı Koçman University's Archeology Department.
According to archeologist Kaan Iren, who heads the excavation site of the ancient city of Dascylium, the figures on the relief show fighting Greek soldiers beneath the hoofs of Persian warhorses.
"Here is a scene of propaganda under the pretext of war. We can say these reliefs are a scene from the Persian-Greek wars," Iren told Anadolu Agency.
He added: "We think these reliefs were probably made for propaganda purposes during the wars."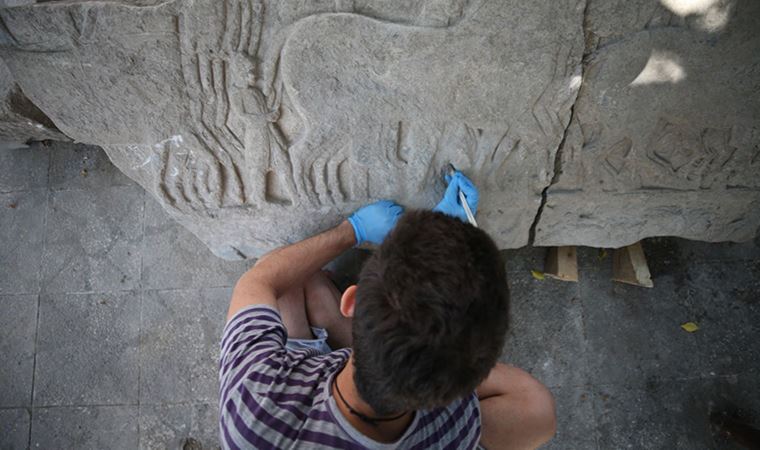 Professor Iren said that the first settlers of the ancient city were the Phrygians. Stating that the reliefs carved into the stone were cleaned by the restorers in the excavation house, İren said:
"The relief, dating from the Persian era, from the 5th century BC, depicts the war between the Persians and the Greeks. This was one of the most important achievements of the season for us. In the figures on it, there are Greek soldiers fighting and Persians on horseback fighting them. Greek soldiers are depicted under the feet of Persian horses," he said.
The excavation team discovered the relief while trying to unearth the 8th century BC wall from the Phrygian period. The five-meter-wide wall is believed to have been built by the ancient Phrygian civilization to protect its territory.
Profesör Kaan İren, "Of the eighth-century-B.C. wall left from the Phrygian age, this year we unearthed an area of four meters (13.1 feet) high and 40 meters long. We think this wall, which is made of stone and mudbrick with the mudbrick parts having disappeared over time, was seven or eight meters high," said.
Iren stated that the discovery of the relief during the excavations of the wall surprised the team and became one of the season's most significant discoveries.
Balıkesir Governorship, Balıkesir Metropolitan Municipality, Bandırma, and Manyas municipalities, Muğla Sıtkı Koçman University, Bandırma Çelebi Port Management, and Hydrogen Peroxide, Banvit, Mauri Maya, Torunlar Gıda companies also support the excavation.