Archaeologists from Cotswold Archaeology have unearthed a rare medieval bone flute during excavations in Herne Bay, located in Kent, southeastern coast of England.
Archaeologists were excavating the 61-hectare site, south of Hillborough, when they discovered the instrument, known as a 'fipple flute'.Trenching in 2021 discovered features from the Late Bronze Age and Roman periods, as well as additional evidence of medieval activity.
The instrument was discovered inside a rectangular enclosure surrounded by a ditch. It was found in a layer with pottery dating to between the 12th and 15th centuries.
The flute was expertly carved from a sheep/goat tibia shaft and features five finger holes along the top and a thumb hole underneath. The researchers believe the flute is missing a mouthpiece, but it is otherwise complete and in excellent condition.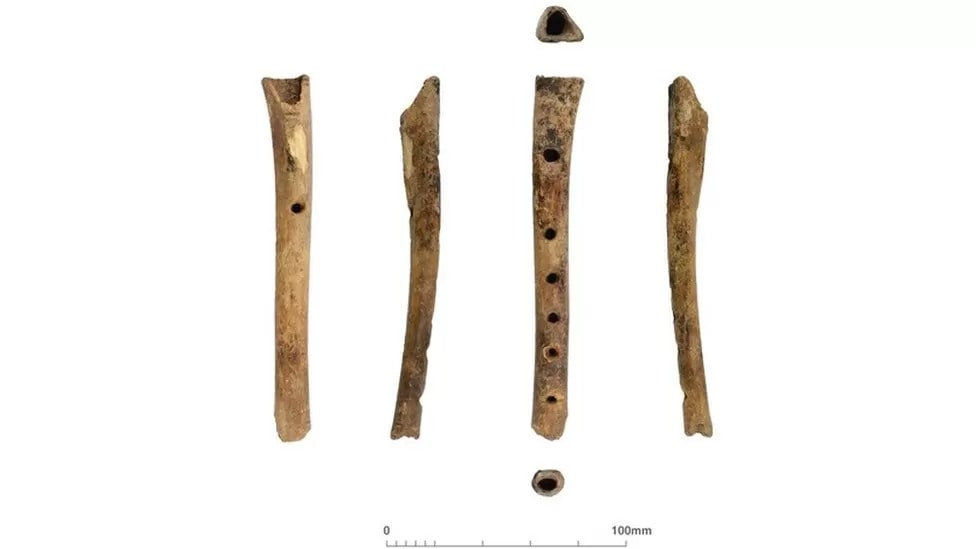 A similar example, associated with a mid-14th century coin, was discovered in 1964 at Keynsham Abbey in Somerset. Additionally, there are examples from Winchester, Hampshire; Flaxengate, Lincoln; Coppergate, York; and a pair of reed pipes from Ipswich, Suffolk, among other locations in Europe, including England.
It is an end-blown flute called a fipple or duct, similar to a recorder or slide whistle. The flute form is very old; the oldest known flute was made from the griffon vulture's bone 40,000 years ago, and the Neanderthal Flute, a partial flute made from a bear bone, is 20,000 years older. However, there are significant gaps in the archaeological record between the flutes made in prehistory and those that first appeared in the early Middle Ages, and these latter flutes are still extremely rare. Only about 120 archaeological examples, dating from the 5th to the 16th century, have ever been found in Britain.
Research on the artifact is ongoing.
Header Image Credit: Cotswold Archaeology