According to newly discovered fossils, a giant skink with spiky armor and powerful jaws roamed New South Wales until about 50,000 years ago.
A fossil lizard discovered by researchers at Flinders University has been described as by far the largest and most bizarre skink that ever lived.
In 2009 and 2013, scientists described two mysterious fossils – part of a jaw and skull – found in Wellington caves in New South Wales. They looked like they belonged to skinks – a type of lizard – but were unusually large.
Now, a more recent excavation at the same site has unearthed dozens of similar fossils. An analysis led by Kailah Thorn at the Western Australian Museum in Perth has revealed that they all belong to the same extinct species – a skink called Tiliqua frangens – that was about 1000 times heavier than typical skinks alive today.
Its official name is Tiliqua frangens, or Frangens for short. But its bulky body and serious spiky armor mean it already has a range of colorful nicknames including Mega Chonk and Chonkasaurus.
Dr Kailah Thorn said she hoped people would have some fun with the discovery.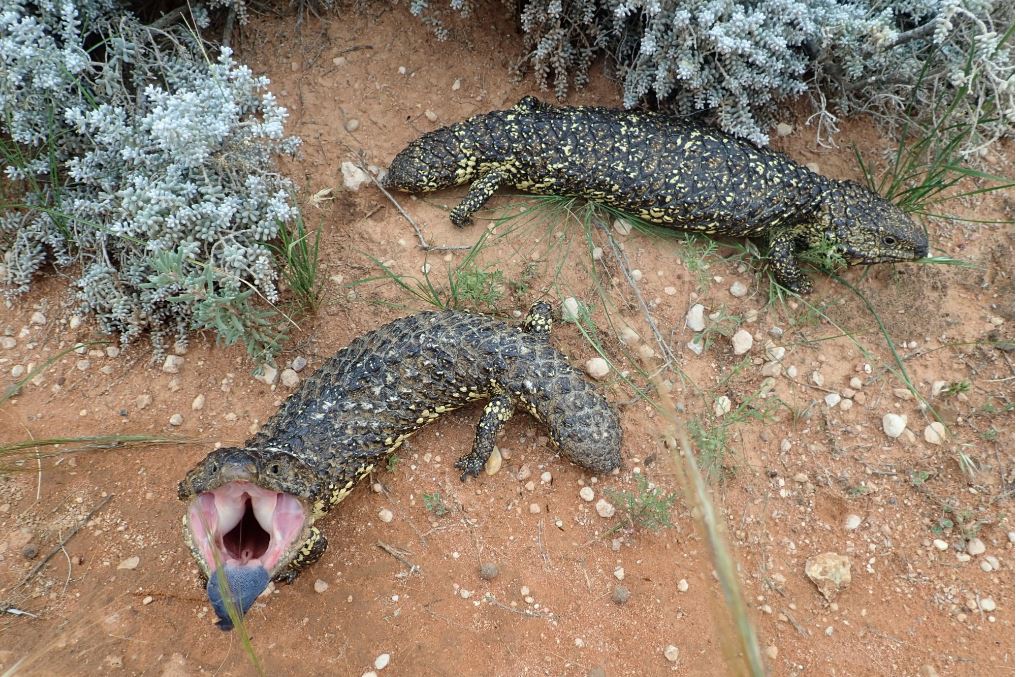 "There's a bit of a meme trend around large 'chonky' animals with phrases like 'oh lawd, he/she comin' ' associated with their arrival," she said. "I'm keen to see what kind of memes come out when this animal is released on the world.
The lizard lived during the Pleistocene, alongside famous megafauna such as marsupial lions, diprotodons, and short-faced kangaroos, the researchers say.
"It reveals that even small creatures were supersized during the Pleistocene."
The shape of its teeth suggests that, like modern-day shingle backs, it mostly ate plants. It may have needed strong jaws because it "ate something tough, like tough plant fibre or maybe a tough fruit or nut that dried out in summer", Thorn says.
The giant skink's closest living relative is Tiliqua rugosa, also known as the shingleback skink, which is found in dry, inland areas of New South Wales and other parts of southern Australia.
By comparing the two species' body measurements, Thorn and her colleagues estimated that the extinct skink would have weighed about 2.3 kilograms. Most living skinks only weigh about 2 grams, with the heaviest, the shingle back, reaching 1 kilogram.
Read more in The Conversation: Meet the biggest and most bizarre skink ever found in Australia. It became extinct 47,000 years ago.
Cover Photo: The giant extinct skink Tiliqua frangens (Frangens for short) was 1000x the size of a typical garden skink (front right). Image by Katrina Kenny CC BY-NC-ND