A team holding excavations and archaeological surveys on the historic Al Sayah Island in Muharraq, Bahrain found that it's 'man-made', and created in the middle of the Sea around a freshwater spring at least 1,200 years ago.
Bahrain Authority for Culture and Antiquities, along with a British team led by Professor Robert Carter, started excavation works on the historical island of Al Sayah at the end of January, as part of the "Maria" excavation project.
Director of the Cultural Institution Museums and Antiquities Department Dr. Salman Al-Mahari points out that, contrary to previous beliefs, the island is unnatural. The earlier belief was that the island was the aftereffect of some natural phenomenon.
According to Dr. Al-Mahari, the island is one of the oldest examples of sea filling practices.
Studies also show that Al Sayah played a crucial role in the pearling history of Bahrain, which was also well known for its freshwater springs. These springs were known locally as Kawkab or Chochab.
"Preliminary results of the excavations show that the island was a water supply station dating back to the early Islamic Era. Or perhaps before that!" said Professor Robert Carter, head of the team.
Professor Robert Carter explained the technique used to build the island to the News of Bahrain.
For this, they first created a cistern or a water reservoir around to spring to contain freshwater emerging from the rocky seafloor. "They created a thick circular wall around that to form a small island or fewer than 20 meters wide. then later, it was fortified by creating another curved wall to form an island of about 40 meters wide."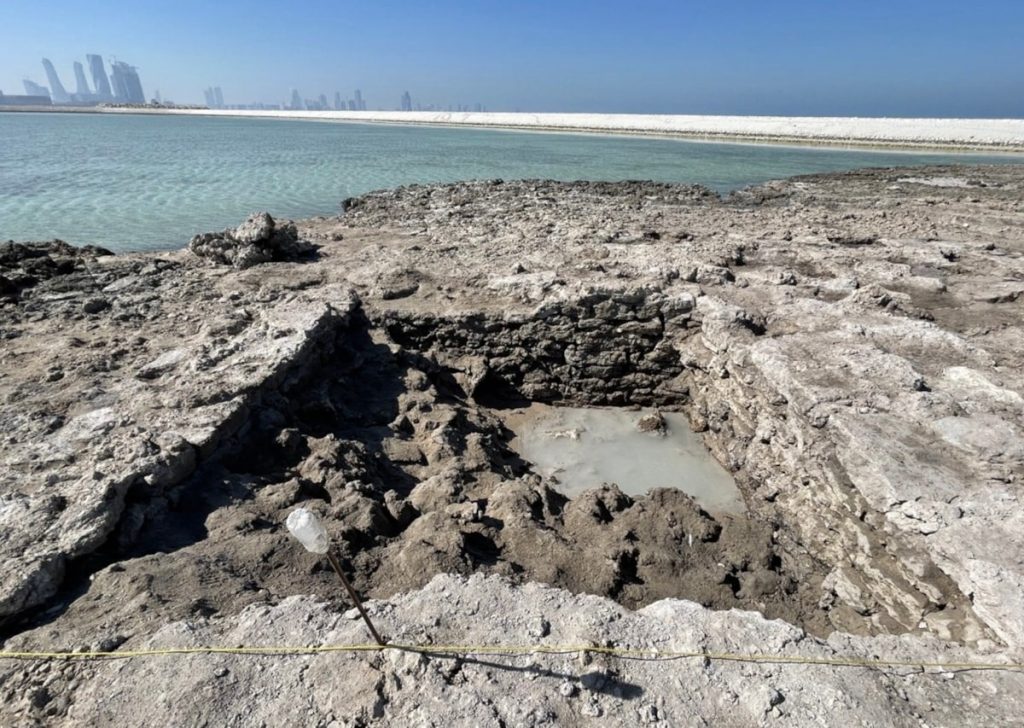 "Finally, they created straight walls on the south and east sides of the island, which intersected with each other rectangular cabins. They also used large coral blocks to create a platform of the ısland that was more than 60 meters in length from one to the other. The excavation also led to a small building next to the spring with a mechanism for raising water."
"So that freshwater can be drawn continuously and distributed to boats anchored along the quay. Old piles of pearl oysters mixed with pottery from the seventh to eighth centuries AD cover most parts of the island."
The research is the first systematic marine and underwater archeology survey in Bahrain.
Bahrain has started to protect the island, which has almost started to disappear, by registering it on the National Heritage List.