In 2017 and 2018, Cotswold Archeology and Oxford Archeology, in a joint venture, undertook excavations ahead of redevelopment at Redcliff Quarter in Bristol.
This joint venture attracted attention with the discovery of highly valuable and well-preserved artifacts. One of the artifacts found was this small iron whittle-tang knife.
This artifact was found amongst the tenement occupation debris and is a small iron whittle-tang knife, complete with a decorative bone handle. Stylistically it is of late 12th to early 13th-century date.
The anthropomorphic terminal of the handle is in the form of a king's head – the eyes are large and bulbous below a prominent monobrow that extends into a straight nose; the mouth has curved lips between two incised lines, with the hint of a beard below; two bands of diagonal lines in opposing directions represent what could be a swept-back hairstyle. His crown has been represented by a series of crenelations above a horizontal band surmounting the forehead.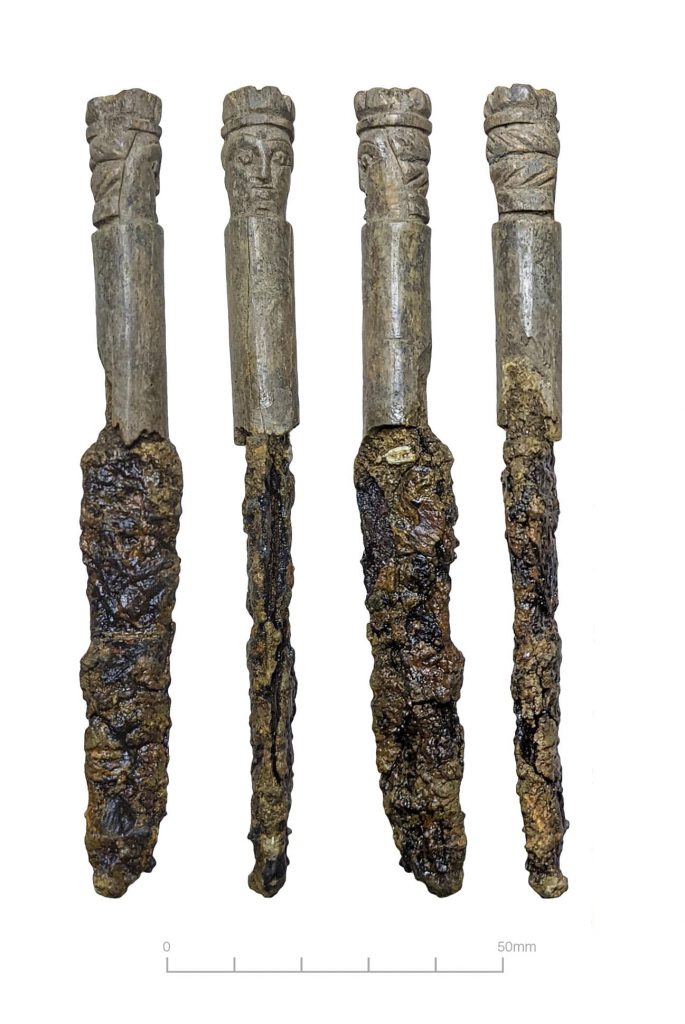 This is a really unusual find – few handles with comparable 'king' terminals are known, the closest example being from Westbury, a deserted medieval village in Milton Keynes. However, the use of king's head imagery is not unknown in other groups of artifacts – it's reminiscent of the chessmen from Lewis, Scotland, of mid to late 12th-century date; and it's seen later, from c. 1200 – 1450, on copper alloy clasps and belt mounts.
Medieval bone knife handles were occasionally carved into figural or architectural forms, although the designs were frequently plain, reflecting the constraints of the raw material employed as well as the craftsman's talents. The designs grew into completely three-dimensional portrayals of knights and even courtly ladies carrying falcons in the 13th and 14th centuries!
The handles of the more elaborate design are believed to belong to the upper classes. Excavations demonstrated that, from the 12th century onwards, Redcliffe was a thriving commercial suburb.
The king's head knife most likely belonged to a wealthy individual living nearby; an individual with perhaps a rather satirical outlook on the social structure of the day, because when the knife is held for use, the King's face would be looking towards the ground, perhaps an intended insult to amuse the holder without retribution!