Archaeologists claimed to have discovered the secondary gate of the city of Bazira during new excavations at Barikot in Pakistan's Swat valley.
Research in the area has been continuing since 1984. In 2016 CIRCE and the ISMEO Italian Archaeological Mission in Pakistan launched a specific project specifically aimed at investigating a cultural phase that had not been previously explored, namely the transition phase between Late Bronze/Early Iron age (1200–800 BCE) and Early-Historic phases (c. BCE 500–80 AD) in the ancient Gandhara region.
Bazira is located in Barikot tehsil about 20-kilometre away from Mingora. Barikot is identified with the city of Bazira/Beira mentioned by Alexander's historians and the siege of Alexander the Great, in 327 BCE, falling exactly in one of the identified archaeological frames. According to archaeologists, the city was captured by Alexander in during his Indian campaign.
Led by Dr. Elisa Lori, deputy director Italian archaeological mission in Pakistan, the team said that they made important discoveries during the recent excavation, undertaken with the help of the provincial archaeology department.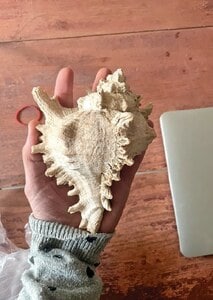 "We discovered the secondary gate in the south-western stretch of the city wall that gave the ancient visitor access to the main street of the south-western neighbourhood of the city. This evidence enriches our knowledge on the history of the urban layout of the city of Barikot from the Indo-Greek to the Kushano-Sasanian period," Dr. Elisa Lori told Dawn.
Lori said that one of the most peculiar recoveries was that of a large-sized right-spiraling ritual conch shell (about 15-centimeter long). It was found during the excavation of the Buddhist temple.
"From ancient texts and sculptures, we know that in Buddhism, as well as in 'Hinduism', conch shells were important ritual objects traditionally blown as trumpets during ceremonies. The recovery of such a ritual object coming from long-distance travel is quite unique in an archaeological context," she said.
Dr. Elisa Iori, in addition, said that a large quantity of materials of different kinds was found that included coins, Kharosthi inscriptions on pottery, beads for bangles and necklaces, terracotta figurines, and several relief's fragments, representing the life of Buddha.
Last year, Italian and Pakistani archaeologists discovered the apsidal temple, which was constructed during Ashoka's reign in the Mauryan period, around 250 BC.
Cover Photo: A view of the recently-discovered secondary gate of Bazira city. Dawn