Antalya province on Turkey's breathtaking Mediterranean, besides the incredible coastline, is besides quite remarkable that up with ancient artifacts and historical artifacts.
This beautiful city also contains the world's most important archaeological museum. Antalya museum attracts thousands of visitors every year with sarcophagi, sculptures, and unique works of different periods.
Antalya Museum was established in Kaleiçi district in 1922 and moved to its building in Konyaaltı district in 1972.
The Antalya Museum today consists of 14 exhibition halls in an area of 30 thousand square meters, open-air galleries where sculptures and various artifacts are exhibited, and a garden.
An important part of the three ancient cultural regions Lycia, Pamphylia, and Pisidia within the borders of Antalya Region, which is one of the regions with the richest history of Anatolian lands, constitute the responsibility area of Antalya Museum.
Scientists from many countries conduct scientific excavations in Antalya, which is a unique open-air museum and an international excavation center with its archaeological richness. Numerous rescue excavations and archaeological landscaping work in the region are carried out by the Antalya Museum.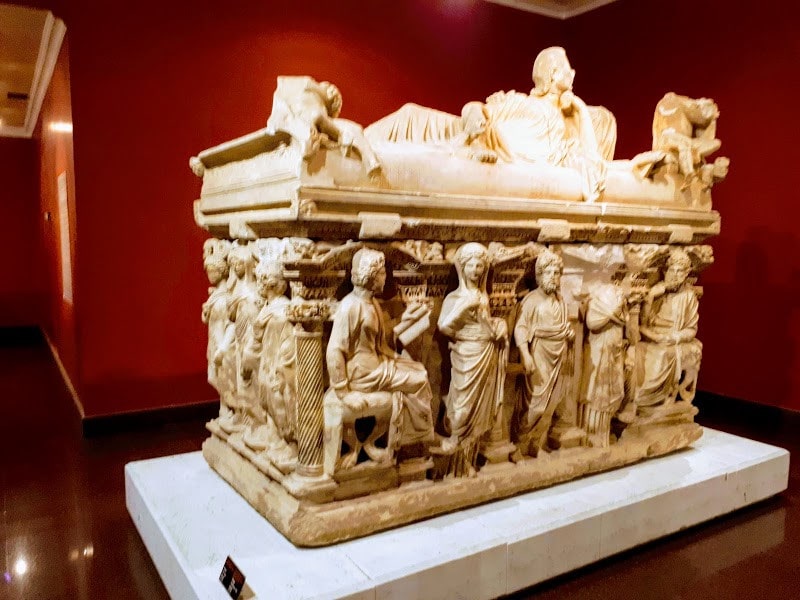 Antalya Museum bears witness to a period from the Lower Paleolithic Age to the Roman Period. In 1988, it received the "European Council Museum of the Year" award.
The most spectacular collection of the museum is undoubtedly the sculpture collection belonging to the ancient city of Perge. The beauty of the sculptures from the ancient city of Perge almost overshadows other works.
Director Mustafa Demirel told Anadolu Agency that the museum has one of the largest sculpture collections in the world.
He said sculptures and findings unearthed in excavations in Perge Ancient City since 1946 are displayed and nearly 50 important sculptures were unearthed after 2012 in particular.
Noting that all the works are restored in the museum's laboratory and prepared for display, Demirel said: "The Antalya Museum is a chronological museum. Visitors have the opportunity to examine works chronologically, from the fossils period to the Karain Cave, the earliest settlement in Anatolia, to the works of the Eastern Roman period and the Seljuk Empire."
He also stressed that excavations in the region are ongoing and efforts are also being conducted to return artifacts that were smuggled abroad.