A team of Oxford Archaeology archaeologists discovered a Roman mosaic in the market town of Olney, Buckinghamshire, England.
Ahead of the construction of an Aldi grocery store, archaeologists began excavations in Olney, Oxford Archaeology said in a Wednesday, news release. A known Roman settlement was located close to the future supermarket.
Angle Property, the developers, commissioned Oxford Archaeology for the study due to the close proximity of a Romano-British settlement on the town's northern outskirts.
Archaeologists discovered a "high-status" Roman structure with two small and one larger room. According to the release, the building's largest room had portions of a mosaic floor. The mosaic, which dates back at least 1,600 years, once covered the entire floor of the room. The tiling along the room's edge was the best preserved. The large mosaic has intricate decorative patterns made from pieces of red, white, and blue tesserae.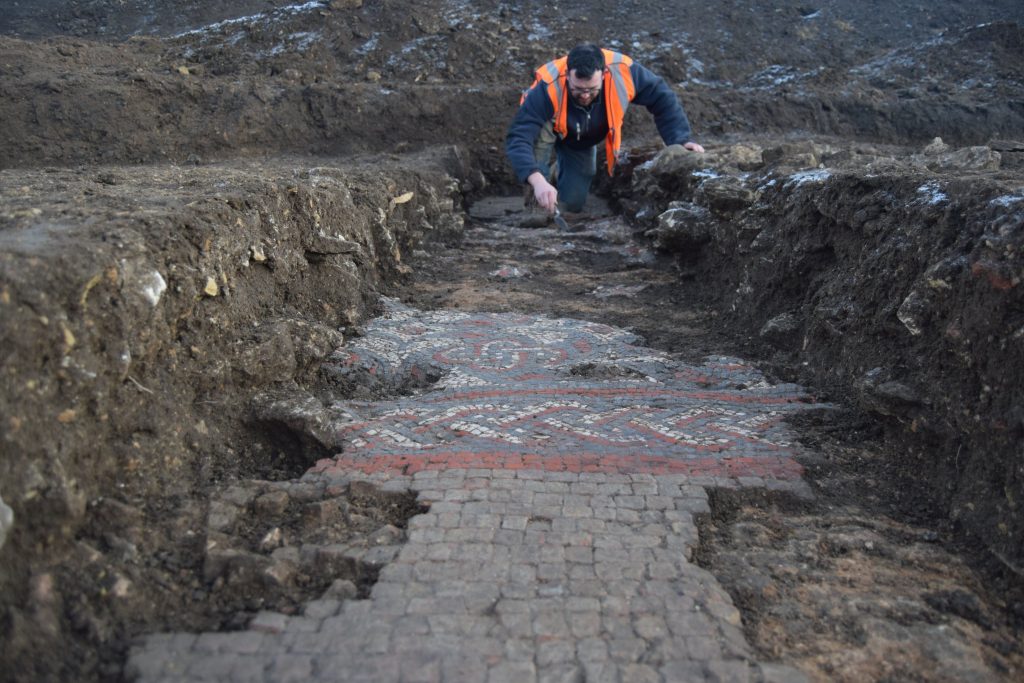 John Boothroyd, senior project manager at Oxford Archaeology told the BBC: "We anticipated some notable Roman remains, but the discovery of this fantastic mosaic far exceeded those expectations,".
Archaeologists described the "beautiful" mosaic as having "vibrant" colors and "intricate decorative patterns."
Anthony Williamson, the executive director of the site's developer, Angle Property, said in the release that "the mosaic find is amazing and has taken us all by surprise."
The Roman empire controlled parts of the U.K. from 43 A.D. until 410 A.D., according to Britannica. Archaeologists have not provided a more specific estimate for the age of the ruins.
Despite the discovery of a number of Roman artifacts within the boundaries of modern-day Olney, evidence suggests that the town center was not occupied until the Anglo-Saxon or early medieval periods.
Excavations at the villa have revealed that a large portion of the complex extends beneath a nearby modern road, making it difficult for the team to fully investigate. In order to safeguard the mosaic from the upcoming construction projects, the remains are currently being reburied and being recorded and preserved in situ.