In Steinsfeld, in the German state of Ansbach, archaeologists have unearthed a 1,400-year-old folding chair from an early medieval woman's grave.
The surprise find was made in Endsee, part of the municipality of Steinsfeld (Ansbach district). The discovery was announced by the Bavarian State Office for Monument Protection on Monday, August 29, 2022.
Only the second such early Middle Ages piece to be discovered in Germany, the folding chair was made of iron and is extremely rare.
The folding chair measures approximately 70 x 45 centimeters (28 by 18 inches) and is believed to date from the end of the 6th century.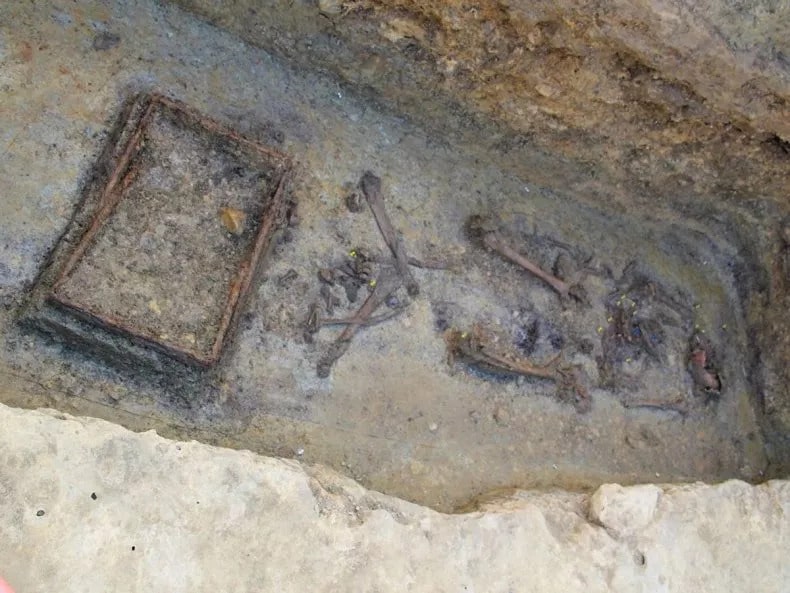 According to the first anthropological assessment, the deceased was a woman who died between the ages of 40 and 50. The experts believe that the chair was buried with the deceased woman, as a grave good.
She wore a string of small multi-colored glass beads around her neck. On her belt was a hanger with, among other things, a brooch with two bows, an almandine disk brooch, a large millefiori bead, and a spindle whorl. An animal bone lay next to the folding chair placed at the feet of the deceased woman.
Wooden paneling remnants point to a closed burial chamber. The archaeologists discovered a man's grave next to the woman's grave, in an almost parallel arrangement and west-east alignment. A full set of weapons (lance, shield, spade) and leg combs were given to the deceased, in addition to a bronze buckled waist belt and belt pouch.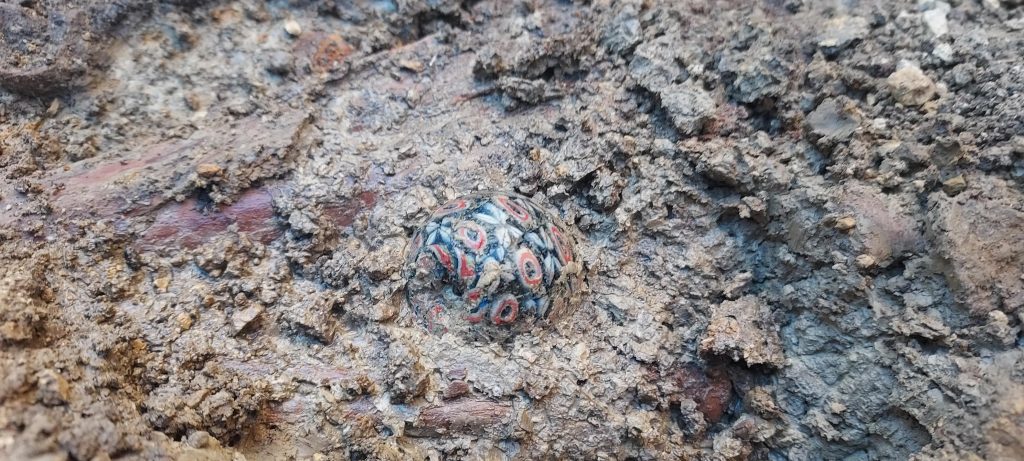 The Bavarian State Department for the Protection of Monuments (BLfD) said in the press release: "About two meters [6.5 feet] below ground level, an excavation team in Endsee in central Franconia uncovered a grave measuring around 1.3 by 2.7 meters [4.26 by 8.85 feet], in which there was an iron frame that soon turned out to be a folding chair.
"This find, which at first glance seems so modern, is an absolute rarity and of the greatest cultural-historical interest, because it gives an insight into the burial equipment of prominent sections of the population and into the early use of furniture," said Professor Mathias Pfeil, BLfD curator general.
Restorers are now examining the folding chair, which was recovered as a block, in the restoration workshops of the Bavarian State Office for Monument Preservation near Bamberg, and will gradually uncover it.
"Burial objects like this folding chair are extremely rare," the official said in a statement. For this reason, they are interpreted as "special gifts" in studies and indicate that the deceased held a higher position or held a higher social rank. According to the government office, 29 early medieval tombs with folding chairs were found all over Europe – only six of them made of iron.